Getting vendor insurance—even if you only get it for a single day—is a must if you routinely participate in public-facing events. Many vendors assume that they can only purchase insurance on an annualized basis and, as a result, they either spend too much on their policy or side-step insurance altogether.
Obviously, neither outcome is ideal, which is why insurers have begun to offer vendor insurance for one-day events. We'll walk you through all you need to know about one-day vendor insurance: from the basics (what is vendor insurance in the first place?), to the finer details (what types of events could require you to have vendor insurance for a day?).
What is Vendor Insurance?
Put simply, vendor insurance provides coverage for claims and lawsuits that result from your business's participation as a vendor at an event. This could include claims made against your business based on foodborne illnesses, injuries, or property damage. In the event that an applicable claim is made against your business based on injuries or damages that occurred during an event you were a vendor at, then your insurance would address the costs of defense and claims up to your policy's limits.
Say, for instance, that one of your employees accidentally spills water on an expensive speaker and breaks it, and the event manager puts your business on the hook for the cost of replacing it. In this case, you would need to file a claim with your insurance company. If your claim is approved, your vendor insurance company would help your business pay to replace that speaker—or fight the claim the event manager made in court, if you so choose.
What Vendor Insurance Doesn't Typically Cover
Vendor insurance typically applies to vendors who are a small part of a larger event. That said, most vendor insurance policies won't cover certain types of vendors. For instance, if you set up booths at weapons trade shows to sell guns, you'll be hard pressed to find a vendor insurance policy. Very few insurance companies are willing to cover bartenders who serve alcoholic beverages, either. If you're working as a vendor who specializes in something that's generally considered dangerous, you might need to look for specialty insurance.
That goes beyond just guns and booze, too. Finding vendor insurance for fireworks businesses, tattoo businesses, or weight loss supplement businesses could prove to be difficult. Some insurance companies even hesitate to provide vendor insurance to face painters. If you're planning on participating as a vendor in a larger event in one of these capacities, then don't wait until the last minute to try to find vendor insurance for the day—it could be harder than you expect.
Why Bother With One-Day Vendor Insurance?
Vendor insurance, even if it's just a one-day policy for an event, is an important investment for most vendors. You've probably heard that before, but you might still be wondering why it's an important investment.
If you're only working an event for a single day, it's tempting to not go to the trouble of purchasing a vendor insurance policy. But there are a few reasons why this is a risky move.
For one, many event managers require all participating vendors to have vendor insurance, but very few pay for it themselves. Thimble will soon offer on-demand umbrella policies for event managers, but there's no guarantee that every organizer will take advantage of this offering. Most event organizers request a Certificate of Insurance from vendors as proof that they'll have a vendor insurance policy for the event in question.
More broadly, vendor insurance is important because it provides coverage for vendor-specific claims and injuries. A standard General Liability insurance policy may not match the exact risks that come with participating as a vendor in an event. Selecting the vendor add-on for your General Liability insurance policy via Thimble ensures that your coverage better matches your needs, and makes any claims you file more likely to be covered.
Opportunities That Often Require Vendor Insurance
Setting up as a vendor at a broader event is a surefire way to gain exposure to new markets. You can set up shop at a widely publicized gathering—without having to solely generate or pay for that publicity. Being a vendor at an event means that new eyes see your brand, and word of mouth could increase exponentially for your business as a result. Here are a few examples of opportunities that could afford your business this exposure—and that, of course, could require you to have a vendor insurance policy.
Trade Shows
Trade shows are tried-and-true ways to gain industry contacts and customers. Say, for instance, that you're starting a haircare company that you want local salons to start using and selling to their clients. You can set up a table at a beauty industry trade show and attract local haircare professionals to your table. But you also need to access vendor insurance for the day of to make sure you're protected from claims and injuries that might occur during the trade show. Purchasing vendor insurance for one day could very well be worth the valuable B2B contacts that trade shows typically offer.
Conferences
Conferences are another valuable way to access industry-specific exposure as a vendor. You can publicize your business to industry professionals without having to pay for wide-reaching advertising that conference managers provide. Just like trade shows, conferences often require a vendor insurance policy for the duration of the event—whether it be a day or a whole week long.
Festivals
Vending at festivals is also a tremendous opportunity for small businesses. Though the exposure they offer might not be as industry-specific as trade shows or conferences, festivals are a wonderful way to get in front of consumers without overtly advertising your product. Plus, festivalgoers are more likely than your average window shopper to try out your offerings—whether you're selling fine art or slinging hot dogs.
With this wider exposure comes the need for coverage. Vendor insurance helps protect your business from any claims that new customers or festival managers might make against your business. The free-flowing nature of a typical festival—be it a music festival or a tulip festival—makes vendor insurance all the more necessary for your business.
Markets
Events like flea markets and farmers' markets are wonderful ways for businesses without storefronts to set up shop in central locations. Flea markets allow vintage and antique curators to get their collections within the line of sight of many high-intent shoppers.
On the other hand, if you're running your own farm in a rural area and you want to be able to reach cities bustling with hungry customers, being a vendor at a farmers' market is the easiest way to do so. As with most events at which you'd set up a booth or table, these markets also require vendor insurance so that you can protect your business from claims that could be filed against it.
Pop-Ups
A (relatively) new vendor-centric phenomenon sweeping the small business space? Pop-ups. Also known as flash retail or temporary retail, pop-up shops are when small businesses pay to set up a physical shop in a high foot-traffic area for a short amount of time. Pop-ups can also be restaurants—an up-and-coming chef might borrow a kitchen and a dining room from another restaurant on the day that the host restaurant is closed.
Pop-ups are a valuable way to test out a product or service without investing in real estate or signing a lease. Or, if your business is internet-based, pop-ups can allow you to test out traditional retail without fully committing to a storefront. If you want to seize a portion of the 92% of purchases that still happen offline, then a pop-up shop is a low-commitment way to try it out.
The host of your pop-up might require your business to purchase a vendor insurance policy before setting up your spread. Be sure to iron out the details to see what type of insurance a pop-up host might require from your business.
How to Get Vendor Insurance for One Day
So, now that you're familiar with all of the reasons why you need to get vendor insurance, whether for a day or for a year, let's talk about the process of accessing short-term vendor insurance for one-off events like the ones we highlighted above. Luckily, this is actually the easy part.
With Thimble's vendor add-on for our Events and Entertainment insurance policies, getting vendor insurance for one day is insanely easy. Thimble's app allows you to purchase vendor insurance for one day for as little as $10 a day.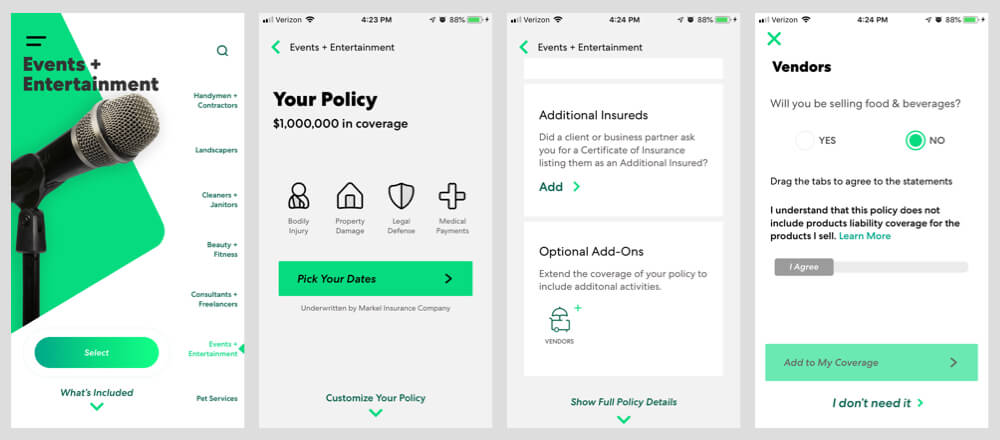 In fact, you can actually purchase vendor insurance by the hour for as little as $5 an hour. Thimble's policies come with $0 deductibles and a $1 or $2 million limit, too. Even though these vendor insurance policies are remarkably affordable and customizable, they still offer top-tier coverage underwritten by A-rated Markel Insurance Company.
Vendor Insurance for One Day: the Bottom Line
Vendor insurance for one day is now a possibility for your business. You can customize your coverage down to the hour for events you participate in intermittently. That said, if you participate regularly in events like trade shows, farmers' markets, conferences, or pop-ups, be sure to do the math on the overall cost of short-term versus longer-term plans. If you're regularly a vendor for larger events, it could be worth it to invest in a monthly policy rather than getting vendor insurance on a day-by-day basis.