A Sweet Sixteen was once described as "the coming‐out party of the middle class." It was the subject of a popular MTV reality show titled "My Super Sweet 16," which chronicled extravagant 16th birthday celebrations.1 Similar to other rites of passage such as a quinceañera, a bat mitzvah or a bar mitzvah, a Sweet 16 is a celebration of one's 16th birthday.2
Before you pick a venue and order a cake, you need to get adequate liability coverage for your teenager's big day. After all, there's a chance that things could go awry. A guest could get hurt during the party, for example, and that could put you at financial risk.
That's why you need Sweet 16 Insurance, a type of special event coverage, to protect you from the financial consequences of third-party claims of injury or property damage. Here's what it covers.
What kinds of claims does Sweet 16 Insurance cover?
A range of things could go wrong during a Sweet 16 party. Federal and state laws generally prevent minors from filing lawsuits, but that doesn't mean their parents won't sue on their behalf.3 With a party full of mostly underage teenagers, you should have Sweet 16 Insurance to cover you from claims such as:
Third-party, non-employee bodily injury: If someone gets hurt during your event, you may be held liable for their bodily injuries and resulting medical expenses. If, for example, a piece of audio equipment fell and hurt one of the attendees, you could be sued and held liable for the accident.
Third-party property damage: If someone's property gets damaged during the party, the owner of that property may try to sue you. If a guest at the party damages the venue's property, you could be held responsible.4
Personal and advertising injury: Personal and advertising injury involves claims of libel, slander, defamation or otherwise disparaging material. It can also involve publishing or saying something that violates someone else's right to privacy and infringes on their ads' copyrights.5
How much does Sweet 16 Insurance cost?
Several factors could affect how much you pay for Sweet 16 Insurance. including how many people attend and how long the party will be. Here's how much you can expect to pay for a one-day event based on the number of attendees:
Who needs Sweet Sixteen Insurance?
When hosting a Sweet 16 party, the last thing you want is to worry about being hit with a costly lawsuit afterward. Those who definitely need to obtain Sweet Sixteen Insurance before the event are:
Any people who are hosting or organizing the Sweet 16 (including professional party planners).
People who are planning the party at a venue may require liability insurance.
Possibly, those who are hosting the Sweet 16 at their home. If you host the event at your home and someone gets hurt, your homeowners' insurance policy may not cover event liability. You should check with your homeowners' insurance agent.
Get insured before you cut the cake
Birthday celebrations can be so much fun, but with the partying comes a high financial risk for the party host. Before the birthday party starts, make sure you have the right insurance. With Sweet Sixteen Insurance, you can:
Protect yourself from the financial impact of property damage claims against you if someone blames you because their possessions are broken or destroyed at the party.
Protect yourself if someone gets hurt or suffers personal or advertising injury at the party and holds you liable.
Get coverage for an hour, a day, or even more.
Get your policy before you light the 16 candles. Press "Get a Quote" and you can have your policy in hand before you blow out the candles. 
What if I only need Sweet 16 Insurance for one day?
With Thimble, you can get flexible event coverage for as short of a period as an hour or up to five days. That way, you'll have sufficient coverage during the set-up and breakdown of the event.
How can I get a Certificate of Insurance to show the venue?
You may need Sweet 16 Insurance even if your chosen venue has a commercial liability insurance policy. Many venues will require you to show a Certificate of Insurance (COI) with the venue named as an Additional Insured to make sure they're safeguarded. With Thimble, you'll get your policy and COI delivered instantly to your inbox and app when you click "purchase," and you can manage your Additional Insureds online.
Will liquor liability coverage apply if a minor is drinking?
If you're hosting a party and planning on serving alcohol, you're vulnerable to social host liability, per the Insurance Information Institute.6 This liability risk varies from state to state, but 43 states have a version of social host liability law in place. Your homeowners' insurance policy typically covers liquor liability, but liquor liability policy could exclude coverage for illegal activities like serving liquor to minors.7,8
Do I need Sweet Sixteen Insurance if my event is held at my home?
You may be saving money by holding the party at home rather than a venue, but don't assume that your homeowners' insurance policy adequately covers event liability. Make sure to check with your homeowners' insurance provider about whether your policy will cover the event. If not, get Sweet Sixteen Insurance from Thimble.
What are Thimble's Sweet Sixteen event coverage policy limits?
With Thimble, liability insurance limits have a $1 million per occurrence limit with a $1 million aggregate limit. If you want, you can increase your liability limits to $2 million per occurrence with a $2 million aggregate limit.
Does Sweet Sixteen Insurance via Thimble cover event cancellation?
No, Thimble's policies don't cover event cancellation (for example, coverage for the contingent costs of cancelling a caterer). However, your event insurance policy is refundable as long as it is canceled before the policy start date and time.
Still have questions?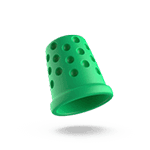 Quick-thinking insurance for fast-moving businesses.