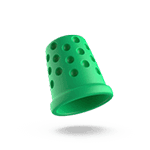 Work with Thimble.
Our mission is to make insurance simple for small businesses. If you're a nerd for knowledge, love a creative challenge, or have ever been told your ideas are too "out there"...well, let's talk!
Get in on a game-changing company.
Thimble is a rapidly growing, well-funded insurtech startup led by three-time entrepreneurs Jay Bregman and Eugene Hertz. We've raised $45 million in funding from IAC, OpenOcean, Slow Ventures, and other top firms. We're a fun-loving squad with a serious passion for supporting small businesses. You'll work with exceptional people from veterans in the insurance game to experts in consumer tech and self-proclaimed art school kids. Together, our breadth of experiences help us discover innovative ways to push the needle.
Be an owner.
Our Monday meetings aren't your average All Hands. You'll get to see everything from our financial statements to our fundraising progress and get real, honest-to-goodness transparency into every aspect of the company. Why? Because we believe that the more information you have, the more empowered you'll be to feel like an owner.
Work in your sweatpants.
Our 100% remote team cross-collaborates all over the US and Xiamen, China. We'll set you up with a stipend to deck out your home office, wellness perks to help you stay active, plus a co-working space reimbursement for days you need to get out of the house (but maybe change out of those sweatpants first).
Build community from home.
At Thimble, we believe work is one part of a robust, fulfilling, balanced life. We enthusiastically support our team making time for what matters, whether that's bragging on your little one's first day of school in the #thimblekids Slack channel or taking an hour out of the day to (virtually) meet a new hire Coffee Buddy. We stay connected in work chats dedicated to bonding with our co-workers (#trash-tv is our favorite!) and unique virtual events like safaris and cocktail classes. Occasionally, we'll organize IRL meet ups to talk about fantasy football and pet each other's dogs.
Our journey to diversity, equity, inclusion, and belonging.
We rethink what's possible by broadening our perspectives and challenging the norms to support our customers, empower our employees, and revolutionize the insurance industry.
As part of this commitment, we encourage Thimblers to start their own employee resource groups such as Queer at Thimble, Thimble Ladies, and the Diversity, Equity, Inclusion, and Belonging committee, just to name a few. These groups are always working on exciting ways to improve our culture, from organizing charity raffles for our favorite LGBTQ+ organizations to sending out culturally-appropriate small business snack boxes in honor of heritage months.
Pets You'll Meet (on Zoom)
Mickey and Mew
Falls Church, VA
Simon and Pepper
Phoenix, AZ
Ozzie
Briarcliff Manor, NY