Cleaning Business Insurance
Get an insurance policy by the hour, day, or month in 60 seconds.
4.7/5 stars from 638 reviews on Trustpilot
Trusted by
Coverage

General Liability

Equipment Coverage

$1,000,000 Limit
| | |
| --- | --- |
| Crew | |
| | |
| --- | --- |
| Pause Policy | |
4.7/5 stars from 638 reviews on Trustpilot
Trusted by
Whether you are a house cleaner, janitor, or auto detailer, risk comes with running a cleaning business. However, with business insurance, you can turn the perils into possibilities.
Thimble's Cleaning Business Insurance helps business owners protect and grow their businesses. Our on-demand coverage is fast, flexible, and affordable, allowing you to put your hard-earned cash to work.
Who is covered under a cleaning business insurance policy?
Types of insurance cleaning businesses need
Cleaning insurance protects you against the messes you made, or when a client makes a claim against you. It also helps show clients you're a legitimate business.
Safeguard your cleaning business with the following coverages:
General liability insurance
Equipment insurance
Commercial property insurance
General liability insurance
Cleaning businesses interact with third parties every day as part of their jobs. As such, general liability insurance is one of the most important insurance types for cleaners. General liability insurance provides coverage in the event that a third party, such as a customer, client, or bystander, falls victim to an accident that results in bodily injury and property damage. It provides the investigation, defense, and settlement for claims from:
Non-employee bodily injury – You are mopping the hallway in a client's office building. Their employee enters the room and slips on the wet floor, sustaining an injury. (You will need workers' compensation to cover your own employees.)
Property damage – You are vacuuming a client's dining room when the vacuum cord gets wrapped around an expensive dining chair, toppling the chair and snapping the oak frame.
Personal and advertising injury – To promote your cleaning company, you compared it to a local competitor who could sue you for libel or copyright infringement.
In addition to the typical coverages listed above, Thimble's Cleaning Business Insurance also includes damage to a customer's property that's in your care.
For example, if you're using a clients' vacuum cleaner and it breaks, with Thimble you're covered. Although it's technically third-party property, most general liability policies would exclude it because the vacuum was in your care. (It didn't make sense to us either, so we removed the exclusion.)
Equipment insurance
Your cleaning supplies and equipment are essential to your business. While most cleaning supplies are relatively inexpensive, larger equipment such as vacuums and carpet cleaning machines can be costly to repair and replace.
General liability insurance protects damages to third-party (other people's) property, but it doesn't cover the cleaning equipment you take with you to jobs. To protect the equipment you own and lease, you need a separate coverage type. Thimble's Business Equipment Protection covers accidental damage, loss, and theft to equipment you own or lease, up to a $2,500 coverage limit without your having to list the equipment on the policy. If you need a higher coverage limit, you can purchase an additional $2,500 in coverage.
Commercial property insurance
If your cleaning business operates out of an office space, you likely also need commercial property insurance. it protects the building structure if you own it as well as your equipment inside and within 100 feet of the building. While Business Equipment Protection covers the gear you take with you, commercial property insurance protects business assets within your office space, such as your computer and printer.
As many cleaning businesses need both general liability insurance and commercial property, they often purchase a Business Owners Policy which is a bundle of these two coverage types.
Why choose Thimble for Cleaning Business Insurance
With Thimble's Cleaning Business Insurance, say goodbye to the confusing exclusions of traditional insurance policies and paying for coverage on an annual basis.
Choose your coverage length. Purchase cleaning business insurance by the hour, day, week, or month. It's coverage that fits your schedule.
Our general liability insurance for cleaners means you're protected whether using your own equipment or a client's.
Enjoy blanket equipment insurance compared to the traditional "scheduled property coverage," which means you have to specifically list the equipment you want covered. With Thimble, any gear valued under $2,500 is covered without listing it on the policy.
Ready to get started?
Just click "Get a Quote" or download the Thimble app, answer a few questions, and we'll generate an instant quote. Click to purchase and your policy and Certificate of Insurance (COI) will be sent to your inbox. We'll send you as many COIs as you need, and when you need them, at no additional cost.
How much does cleaning business insurance cost?
The cost of your Cleaning Business Insurance depends on a few factors including where you work, your coverage limit, the size of your team, and the length of your coverage. On average, Thimble's General Liability Insurance for cleaners ranges from $6 per hour to $38 per month. Learn more about the factors that impact your cleaning business insurance cost.
Can I get same-day cleaning business insurance?
Yes, with Thimble you can get a quote in 60 seconds and be ready to go for your next job, even if it starts in an hour.
Still have questions?
Quick-thinking insurance for fast-moving businesses.
Simple.
Less questions. More options. Buy a policy online, in the app, or over the phone in minutes. Get to work before the other guys even call you back.
Scalable.
Any size. Every stage. Get coverage by the job, month, or year. Choose how you pay, then upgrade when business really takes off.
Flexible.
No hidden fees. No hard feelings. Modify, pause, or cancel instantly, whether work slows down or hiring picks up.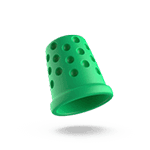 Get covered in minutes.
(Then get to work!)