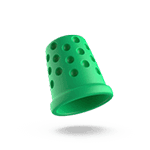 Quick-thinking insurance
for fast-moving businesses.
Get covered in minutes.
Thimble literally saved my business. I didn't even know I needed insurance; I was asked for a copy of it at 8:30 AM. By 1:00 PM I was insured. Great company!
Nathan Clester, NPU Flooring in Florida
I'm a new small business owner, and this was my first time having to purchase insurance. This process was very easy to understand and allowed me to select the appropriate coverage needed.
Raquelle Harris, Creole Bitez in Louisiana
Wow! Couldn't have been faster, easier, or more convenient. Was very affordable and was super helpful, especially during COVID-19 times when I needed to cancel my regular insurance policy because of so many of my cancelled bookings. Thank you, Thimble, for making it easy to get this taken care of during these times.
Taili Song Roth, Photographer in California
Hassle-free insurance allows me to take on orders that require installation at the client's house which I had to let go in the past.
Christian Meier, After Hours Woodcraft in Florida
I have been a small contractor for 40 years and Thimble has made the process so simple it's crazy! They took a process that was tedious and slow (depending on your insurance company and if they would even call you back most of the time) and made it seamless. Love the app and everything about it!
Ray Beaty, The Art of Home Improvement in Georgia
After searching for days for the perfect Certificate of Insurance for my business I came across Thimble and in a couple of clicks I managed to obtain exactly what I needed at a great affordable price! I will never use any other resource for my insurance needs. I highly recommend it!
Rosamaria Arce-Gutierrez, Wedding Enchantments by R & L in Florida
Get covered. Get going.
All the coverage + features you expect from an A-Rated insurer.
SIMPLE
Less questions. More options.
Buy a policy online, in the app, or over the phone in minutes. Get to work before the other guys even call you back.
SCALABLE
Any size. Every stage.
Get coverage by the job, month, or year. Choose how you pay, then upgrade when business really takes off.
FLEXIBLE
Total Control. Seamless edits.
Modify, pause, or cancel instantly whether work slows down or hiring picks up.