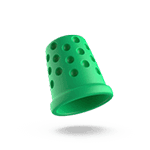 The Thimble Affiliate Program
Do you have an audience of small business owners visiting your website or social media profiles? Thimble's affiliate program is a great way to provide your audience with the best business insurance while also monetizing your online presence.
Thimble offers business insurance with smarter coverage, stupid fast, and with total control. We cover 160+ professions including handymen, photographers, DJs, freelancers, and much more. Each policy provides A-rated insurance and is available anywhere from one hour to one year.
Sign up for Thimble's Affiliate Program and start referring your audience today.