Entertainment Insurance
Get an insurance policy by the hour, day, or month in 60 seconds.
4.7/5 stars from 638 reviews on Trustpilot
Trusted by
Coverage

General Liability

Equipment Coverage

$1,000,000 Limit
| | |
| --- | --- |
| Crew | |
| | |
| --- | --- |
| Pause Policy | |
4.7/5 stars from 638 reviews on Trustpilot
Trusted by
Whether you take center stage during a show or are behind the scenes orchestrating the event, your business depends on delighting and entertaining others. You know that pulling off a successful event is no simple feat, but clients and bystanders can be less understanding when it comes to accidents and mishaps.
That's why event business owners need to be prepared for the unexpected with entertainment insurance (also known as event business insurance) – business insurance for event and entertainment professionals.
We've designed Thimble's Event Business Insurance for schedules that change by the minute. We know you need insurance that works when you need it, whether that's five minutes before a last-minute show or months before an event. Thimble's on-demand Event Business Insurance is fast, flexible, and affordable.
Who is covered under a event & entertainment insurance policy?
Event Staff
Actors
Belly Dancers
Caricature Artists
Celebrity Look-a-Likes
Comedians
Contortionists
Impersonators
Impressionists
Jugglers
Mimes
Musical Conductors
Poets
Puppeteers
Speakers
Storytellers
Street Performers
Ventriloquists
Canoe & Kayak Guides / Instructors
Fishing Guides
Float Trip Guides
Nature and Wildlife Guides
Stand Up Paddleboard (SUP) Guides
Types of insurance event businesses need
There are many roles involved in pulling off a successful event— from the planners who organize it, to the vendors who create the ambiance, to the performers who keep everyone entertained.
Be confident knowing your business can withstand the risks that come with the event and entertainment industry. No matter what happens, the show can go on with the right coverage, including:
General liability insurance
Professional liability insurance
Equipment insurance
Commercial property insurance
General liability insurance
It may be surprising, but we know our fair share about parties, especially third parties. As an event professional, everything you do involves third parties (clients, guests, and bystanders), exposing you to significant risk. However, general liability insurance protects you from the financial repercussions of third-party claims stemming from bodily injury, property damage, and personal and advertising injury. It could cover:
Non-employee bodily injury – As a performer, you might ask audience members to participate in your show. Should you call someone on stage and your act leads to a bodily injury, you could be liable.
Property damage – As an event planner, your client's wishes are your command. Should you damage the client's property while setting up for the event, you could be responsible for the repair or replacement of their property.
Personal and advertising injury – To help promote an upcoming show, you share a few tracks with your followers. A competitor hears your mixes and claims you've copied some of their recent work. You could be held liable for copyright infringement.
Professional liability insurance
Clients often ask for your advice on making their event memorable. As the expert, you're happy to help. After all, you know how to wow guests. If a client follows your advice and suffers financial losses as a result, they could hold you liable. This is why event businesses need professional liability insurance.
This type of coverage provides investigation and defense for claims and pays damages when a client claims your advice, or failure to provide services properly, led to their financial loss.
Professional liability insurance is highly recommended for event and entertainment professionals. For example, a business hires you to help plan an investor event. You're tasked with creating an unforgettable evening that inspires guests to invest.
On the day of, your recommended venue cancels and you're unable to find anywhere else on such short notice. As a result the client has to cancel and claim without the event, they were unable to secure valuable funding. They could hold you liable for their financial losses.
Equipment insurance
As a performer, your equipment is often central to your act. Whether it's a Santa suit or turntables, equipment insurance protects the gear that travels with you to gigs. Are you asking, "doesn't general liability insurance cover property damage?" The answer is yes, but not your property. It only covers damage to other people's property.
Equipment insurance, or Business Equipment Protection at Thimble, protects you against accidental damage, loss, and theft to equipment you own, borrow or lease. With Thimble, you get coverage up to $5,000 in coverage.
Best of all, Business Equipment Protection is offered on a blanket basis for many items, meaning you don't need to individually list each piece of equipment under $2,500 on the policy. (Also called "scheduling," listing equipment is typical for most equipment insurance policies, but a headache we'd all rather avoid.)
Commercial property insurance
If you work in a studio, office space, or shop, it's likely worth investing in commercial property insurance. Even if you work out of your home, there's a chance your homeowners or renters insurance does not cover your business property.
Commercial property insurance protects the building premises you own, such as the structure and signage. It also covers equipment and business property inside the building and within 100 feet.
If the space you own also doubles as an event venue, events you host and property that is there are likely covered through your commercial property coverage and general liability coverage. However, if you're hosting an event at a venue other than premises you regularly occupy, you should consider purchasing event insurance to cover the event and guests, as your standard business insurance likely wouldn't be sufficient.
Why choose Thimble for Event Business Insurance
As an event planner, DJ, florist, magician, or entertainer, everything you do revolves around third parties. You know how to dazzle clients and their guests, but whenever there's a crowd, accidents can happen.
As the saying goes: hope for the best but plan for the worst… with Thimble. (Okay, we added that last part.) Protect your event and entertainment business against the everyday risks of doing business.
On-demand Event Business Insurance is as flexible as you are. With coverage by the hour, day, week, or month, only pay for business insurance when you're working.
Purchase coverage instantly (in 60 seconds) whether you need it for a last-minute gig today or a big event in the future. Protect your equipment that goes with you to events with our blanket equipment insurance. With Thimble, your gear valued up to $5,000 can be covered.
With entertainment insurance, the show can go on.
Ready to get started? Just click "Get a Quote" or download the Thimble app, answer a few questions, and we'll generate an instant quote. Click to purchase and we will send your policy and Certificate of Insurance (COI) to your inbox. We'll send you as many COIs as you need, and when you need them, at no additional cost.
Do I also need event cancellation insurance?
Event insurance is currently not available through Thimble, but is coming soon. You may need additional event cancellation insurance to cover expenses if your event is called off because of adverse events. AND you can cancel your Thimble policy at any time before the event if it's cancelled because of such unforeseen circumstances.
Does Event Business Insurance cover the event I'm hosting?
No, Event Business Insurance is coverage for professionals in the entertainment industry. If you are hosting an event as a business, your standard commercial general liability policy would respond. Talk to your insurance provider to understand the scope of what you need.
What are the Event Business Insurance coverage limits?
Thimble's Event Business Insurance comes with a $1 million or $2 million liability limit.
Do I also need workers' compensation insurance?
If you have any employed team members, you're required by law in most states to have workers' compensation coverage. General liability insurance covers non-employee bodily injuries.
Still have questions?
Quick-thinking insurance for fast-moving businesses.
Simple.
Less questions. More options. Buy a policy online, in the app, or over the phone in minutes. Get to work before the other guys even call you back.
Scalable.
Any size. Every stage. Get coverage by the job, month, or year. Choose how you pay, then upgrade when business really takes off.
Flexible.
No hidden fees. No hard feelings. Modify, pause, or cancel instantly, whether work slows down or hiring picks up.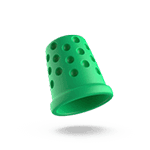 Get covered in minutes.
(Then get to work!)