Beauty & Cosmetology Insurance
Get an insurance policy by the hour, day, or month in 60 seconds.
4.7/5 stars from 638 reviews on Trustpilot
Trusted by
Coverage

General Liability

Equipment Coverage

$1,000,000 Limit
| | |
| --- | --- |
| Crew | |
| | |
| --- | --- |
| Pause Policy | |
4.7/5 stars from 638 reviews on Trustpilot
Trusted by
Expertly sharpened razor blades, precise cuticle nippers, hot curling irons are just a few of the essential tools you need to do your job. You may not be Edward Scissorhands, but you're exposed to significant risk as a personal care professional.
When your business helps people look and feel great, you need to mitigate risk with cosmetology liability insurance.
With Thimble's Beauty Insurance, you don't have to commit to long, expensive policies. Our on-demand business insurance lets you customize your coverage down to the hour, day, week or month.
Who is covered under a beauty & cosmetology insurance policy?
Types of insurance beauty businesses need
You love your clients and often build strong relationships, especially when you see them every 8-12 weeks to trim dead ends. However, when someone's physical appearance is at stake, the risks are higher. Even if you have the most laid-back clients, working with other people exposes you to significant risks daily.
Protect your cosmetology business against the risks of doing business with the right insurance coverage, including:
General liability insurance
Professional liability insurance
Equipment insurance
Commercial property insurance
General liability insurance
General liability insurance helps reduce the risks of working with third parties, clients and bystanders. With general liability insurance, you're covered in the event that an accident causes third-party bodily injury and property damage or personal and advertising injury. It provides the investigation, defense, and settlement for claims from scenarios like the following:
Non-employee bodily injury – One of your regular clients comes in for a shave. While he is walking to the booth, he trips over a cord and injures his knee. (To cover any employee on-the-job injuries, you need workers' compensation.)
Property damage – While trimming a client's hair, the expensive gold chain they are wearing gets caught in your trimmers and is damaged. That's not the look you wanted.
Personal and advertising injury – After you update your website, a local competitor claims the design and messaging are too similar to theirs. They could sue you for copyright infringement.
Professional liability insurance
Clients often ask for your advice and recommendations on a new color, cut, or nail design, and you are the expert who guides them. However, giving professional advice exposes you to a particular type of risk not covered by general liability insurance. For this, you need professional liability insurance. It covers you if your advice or failure to provide services properly causes your client to suffer a monetary loss.
It may sound a little far-fetched that your advice may cause the client a financial loss. Unfortunately, people can be litigious. Should a client be passed over a modeling gig after final cuts because their hair cut was too edgy, they could claim it resulted from your advice (or lack thereof), causing them to miss the expected income.
Thimble makes it easy to purchase both general liability insurance and professional liability insurance. Bundle the two coverages and protect your business from the risks that come your way.
Equipment insurance
Whether you're a nail tech, barber, or hair stylist, it takes time and money to build up your toolset. It's worth safeguarding this investment so that when you need to replace your equipment, it's not a big expense. Equipment insurance protects your owned, borrowed or rented tools and equipment that travel with you. (In comparison, general liability insurance protects other people's property.)
This type of coverage, called Business Equipment Protection at Thimble, insures the equipment that travels with you to jobs against accidental loss, damage, or theft. With Thimble, all of your gear valued at up to $5,000 is covered—whether you take it to a client's house, a hair salon where you rent a booth, or another venue.
If you own a barbershop, hair or nail salon, protect your equipment that's inside with another type of first-party coverage, called commercial property insurance.
Commercial property insurance
If you own or lease your salon, spa, or barbershop space, you should strongly consider commercial property insurance. This coverage protects the building structure and area you operate in. It also covers your equipment and other property inside and within 100 feet of the building.
Many beauty business owners protect their businesses with both general liability insurance and commercial property insurance. Instead of purchasing each coverage separately, they choose a Business Owners Policy, a bundle of the two coverage types.
What kind of liability insurance do cosmetologists need?
General liability insurance and professional liability insurance are the most important types of insurance for cosmetologists. If you lease or own your salon or spa, you likely also need commercial property insurance.
How much does cosmetology insurance cost?
Your cosmetology insurance cost varies based on where you work, coverage length and limit, and the size of your team. Based on Thimble policies sold, the median cost of cosmetology insurance ranges from $5 per hour to $35 per month.
Who does cosmetology insurance cover?
Beauty and Cosmetology Insurance by Thimble covers hair stylists, nail artists and technicians, and barbers.
Do beauty professionals need workers' compensation insurance?
In most states, you are legally required to carry workers' comp coverage if you hire any employees. (You might even need it if they're an independent contractor who works with you.) Always check with your state laws to make sure you're adequately covered.
Does Thimble's Beauty Insurance cover estheticians?
Currently, estheticians are not eligible for coverage in the program.
Still have questions?
Quick-thinking insurance for fast-moving businesses.
Simple.
Less questions. More options. Buy a policy online, in the app, or over the phone in minutes. Get to work before the other guys even call you back.
Scalable.
Any size. Every stage. Get coverage by the job, month, or year. Choose how you pay, then upgrade when business really takes off.
Flexible.
No hidden fees. No hard feelings. Modify, pause, or cancel instantly, whether work slows down or hiring picks up.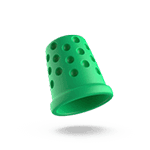 Get covered in minutes.
(Then get to work!)