So someone you know is expecting a bundle of joy! Besides decorations, party favors and hors d'oeuvres, you'll also need to prepare for any mishaps that could happen during the festivities. That's where Baby Shower Insurance comes in.
Baby Shower Insurance, a type of special event insurance, safeguards hosts from the financial impact of a range of liability risks associated with hosting a baby shower. Not sure exactly how it works or what it entails? We'll walk you through what you need to know in this guide.
What kinds of claims does Baby Shower Insurance cover?
Of course, there are multiple ways a baby shower could go wrong. Before the big day, you'll want to make sure you safeguard yourself financially from third-party claims. Here are some potential coverage scenarios:
Third-party, non-employee bodily injuries: If someone else gets injured during the baby shower, you could be held liable. If a guest falls and hurts themselves during the party, for example, you could be held responsible for paying their medical expenses.
Third-party property damage: If someone's personal property gets damaged during the event, they could hold you responsible. Having third-party property coverage can cover the costs associated with repairing or replacing it.
Personal and advertising injury: These claims could arise if someone alleges that you have made slanderous, libelous or otherwise disparaging statements at your baby shower.
Damages or injury from liquor liability: If you decided to serve alcohol at the event, you could be held liable if any third parties sustain any injuries or property damage. Thimble's event insurance includes liquor liability coverage. Why is this important? While your homeowner's insurance may cover some liquor liability claims, the limits usually are between $100,000 and $300,000, and you don't want to be on the hook if the settlement is more costly.1
How much does Baby Shower Insurance cost?
Surely, buying all the goods necessary to host a baby shower can be expensive. As for your Baby Shower Insurance, how much that will cost you will depend various factors, chiefly how many attendees you plan to have for your one-day event:
Besides the amount of people coming to the baby shower, there are other factors that can influence your insurance costs, including:
How hazardous the event is: Baby showers and gender reveals have garnered a reputation for being dangerous. If you plan on using items that could spray or deploy objects during the event, you could be held liable if someone gets hurt.2
How long you need to be insured: With Thimble, you can get insurance for an hour or up to five days.
Who needs Baby Shower Insurance?
It's important to have Baby Shower Insurance if you are the party host, planner, or sponsor. In the event that someone's property is damaged at the party or if your drinking-age guests get hurt as a result of drinking alcohol, you could be held liable.
Though baby showers can be a lot of fun, baby showers have made headlines whenever they go awry (think balloons, confetti or other things can malfunction and injure guests). And if you decide to serve alcohol during the event, the host could be held liable, even if guests are hurt on their way home.3
Before blowing up balloons, protect party guests
Celebrating a new life coming into the world is a beautiful thing. You need the right coverage to protect yourself and the baby shower attendees. With Thimble, you get as much Baby Shower Insurance coverage for as long as you need. Whether it's a big or small event, we've got you covered.
What if I only need Baby Shower Insurance for one day?
With Thimble, you can get the right coverage for your needs. You can buy event insurance coverage for between an hour to five days. That way, you'll have enough time to get coverage from the time you're setting up the cake until you're cleaning up afterwards.
Do I need Baby Shower Insurance if my venue has commercial liability insurance?
Yes, you'll need to buy your own policy even if the venue where you're hosting the party has commercial liability insurance. Venues tend to require you to provide a Certificate of Insurance (COI) with the venue listed as an Additional Insured to make sure they're safeguarded from liabilities that arise during the baby shower.
What are Thimble's Baby Shower event coverage policy limits?
Thimble's liability limits start at $1 million per occurrence limit with a $1 million aggregate limit. You can raise the liability limits to $2 million per occurrence limit with a $2 million aggregate limit if you want.
Does Baby Shower Insurance cover event cancellation?
Unfortunately, our policies don't cover event cancellations. However, you can get a refund for your Baby Shower Insurance policy if you cancel it before the policy start date and time.
Still have questions?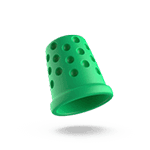 Quick-thinking insurance for fast-moving businesses.