Private Event Insurance
Get coverage by the hour, day, or week in 60 seconds.
4.4/5 stars from 1519 reviews on Trustpilot
Best insurance for the Smallest Businesses
4.4/5 stars from 1519 reviews on Trustpilot
Best insurance for the Smallest Businesses
Don't let your private event make it to Page Six because you didn't have insurance. Even when you plan on throwing the wedding, baby shower, graduation party, or corporate event of a lifetime, things can (and do) go wrong. Make sure you are protected from the financial consequences with Private Event Insurance through Thimble.
What is Private Event Insurance?
Private Event Insurance is a type of special event insurance that protects the event organizers or planners against financial loss because of third-party claims of injury or property damage. These types of claims can come from guests or the concert venue, and can occur during the set-up, breakdown, or the event itself.
Even if the amount of the claim against you is small or the claim itself is false, the costs and hassle of dealing with it will ruin the fun. Even worse, a truly large claim can put you or your business in a financial bind. When you're planning any intimate gathering, get insured and get on with the party.
What does Private Event Insurance cover?
When you are getting a group together in a small and private setting, people can be hurt or their property can be damaged—especially when alcohol is involved.
When a claim is made against you (whether founded or unfounded) you will need a professional legal team on your side. Private Event Insurance insurance provides the investigation and legal defense of claims even when such claims are groundless, false, or fraudulent.
As you make your plans, it is good to know that Private Event Insurance can protect you from the financial consequences of claims such as these:
Third-party bodily injury: If a guest suffers an innocent slip-and-fall accident while at your event, you could be held liable for their bodily injury and be responsible for paying their medical bills as well as consequential damages. (If you have employees, however, you should have workers' compensation insurance).
Third-party property damage: A guest snags her expensive bracelet on a piece of event decor as it's being moved and the jewelry falls apart. You could be held liable for the property damage. Or someone slides their chair into a wall and chips the paint, you could be held liable for the cost of the repair.
Damage from liquor liability: For private events where alcohol consumption is allowed, you could be held liable if a guest who has been drinking hurts themselves, hurts someone else, or causes property damage. For private events where you are selling alcohol, you may need to purchase additional liquor liability coverage.
Personal and advertising injury: People don't always play nice. If someone accuses you of libel or slander, you need personal and advertising injury coverage.
How much does Private Event Insurance cost?
Many factors affect your Private Event Insurance premium. When you buy your policy, you'll be asked a few quick questions including:
How big the event will be
How long it will be
The type of event and how risky it will be.
You can answer these questions, get your instant quote, and buy your policy through Thimble, all in less than a minute. Coverage for liquor liability for BYOB events is included in the policy.
Who needs Private Event Insurance?
Private events come in all shapes and sizes, but one thing is consistent besides your guests having a great time: If you are hosting, simply having general liability insurance is not enough. You need Private Event insurance for the specific risks you face when bringing people together. Common types of events include:
Weddings
Rehearsal dinners
Baby or bridal showers
Celebrations such as graduation, anniversary, or retirement parties
Corporate gatherings
Furthermore, when you reserve the venue, you will more than likely be asked to provide insurance. Most venues require at least a $1 million limit in general liability coverage before they will approve the event. When you buy Private Event Insurance via Thimble, we'll immediately send you your policy and a Certificate of Insurance (COI) that you can easily share with the venue.
Don't be fooled into thinking that nothing will go wrong at a private event. We all know you can't trust extended family to not hurt themselves on a dance floor. And you never know what types of falls or collisions will occur between two baby shower guests racing to play "pin the diaper." All joking aside, more than one gender reveal party has sent people to the hospital.
The inability to control accidents is the reason that you need Private Event Insurance.
What other insurance might you need for a private event?
When we talk about Private Event Insurance, we're really referring to the general liability insurance you need to protect yourself from the financial consequences of claims resulting from accidents. But what other types of insurance might you need for a private event?
If you will employ anyone for the event, you'll likely need workers' compensation coverage for claims brought against you if employees are hurt while doing their job or develop an illness as a result of their job. It's required in most states if you have at least one employee. This means that if you are hiring people rather than vendors, you'll likely need this coverage.
If you hire vendors, the requirement is a little different. You should ask every vendor to provide you with a COI showing their own general liability insurance coverage and limits. Ask to be named as an Additional Insured on their policy so that you aren't liable for their actions, such as a waiter accidentally bumping into a guest.
Building memories while being covered for the "what ifs"
Private events are places to have a good time and create lasting memories, but accidents can result in thousands of dollars being paid to defend and settle claims. Remember that:
Without insurance, you're left to pay these costs on your own, tainting the positive memories of the event.
Private Event Insurance is reasonably priced so that you can afford the right coverage for your activities from one day to five days.
With Thimble, you can easily share your COI with event venues if asked for proof of an insurance policy.
Getting ready for a private event? Get your quote today and get covered in minutes.
I'm not renting a space but hosting at home. Do I still need Private Event Insurance?
Home is where the heart is, but it doesn't protect you from liability. Get special event insurance to make sure you are protected for your big day.
What if I only need one-day insurance?
Thimble's special event insurance is designed for short-term needs. Our policies will cover your event for one day up to five days. Don't worry, you're also covered from set-up to breakdown. And if something gets in the way of your event, you can cancel your policy any time before the policy starts and we'll refund you. We understand insurance is the last thing you want to deal with while you're event planning.
What are Thimble's Private Event Insurance coverage policy limits?
Our liability limits start at $1 million per occurrence with a $1 million aggregate. You can increase the liability limits to $2 million per occurrence with a $2 million aggregate if you choose.
Does Private Event Insurance via Thimble cover event cancellation?
You can cancel your policy any time before the policy start date/time. However, we do not offer event cancellation insurance, which is a different type of insurance that can cover the loss of event-related expenses.
Still have questions?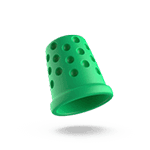 Quick-thinking insurance for fast-moving businesses.