Dog Daycare Insurance
Get an insurance policy by the hour, day, or month in 60 seconds.
4.7/5 stars from 935 reviews on Trustpilot
Best insurance for the Smallest Businesses
Coverage

General Liability

Equipment Coverage

$1,000,000 Limit
| | |
| --- | --- |
| Crew | |
| | |
| --- | --- |
| Pause Policy | |
4.7/5 stars from 935 reviews on Trustpilot
Best insurance for the Smallest Businesses
Why do I need dog daycare insurance?
If you own a dog daycare, you know how much fun Fifi and Fido can be. You also know how much trouble they can get into.
Property can get damaged, other pets and people can get bitten, and general mayhem can occur—and that can all be by just one dog!
Any business is exposed to risk. Throw pets into the mix, and your risk increases exponentially. That's why business insurance is essential for any dog daycare or boarding company.
At a minimum, every dog daycare should carry liability insurance. General liability insurance and professional liability insurance can protect you from the costs that arise from accidents involving third parties. These third parties could be your customers, potential customers, vendors, and visitors.
Plus, when you set up shop as a doggie daycare, you want your clients to feel they can trust their furry loved ones with you — that they'll be safe and happy. That's how you win new customers. Having dog daycare insurance tells your clients they can take you seriously.
You give your canine clients so much love. Your business deserves the same level of TLC. Good dog boarding insurance keeps your investment (and the pups!) protected, without needing to worry about a potential lawsuit.
What does Dog Daycare Insurance cover?
Dog daycare insurance is a type of business insurance designed for dog daycare and boarding small businesses. A dog daycare insurance policy should include coverage for two main types of liability: general liability and professional liability. Let's break them down.
General liability coverage is what many call "slip and fall insurance" or, more simply, business insurance. General liability insurance is designed for accidents that cause bodily injury, property damage, and personal and advertising injury to third parties., It also provides the investigation and legal defense for those types of claims brought against you and your business.
Here are some example scenarios that would fall under a general liability policy.
Third-party, non-employee bodily injury — While dropping their dog off at your boarding facility, one of your human customers slips and falls on urine from a canine customer in your lobby. If they need medical treatment and expect you to pay for it, your policy could cover the cost of your liabilities.
Third-party property damage — One of your employees accidentally spills liquid on a customer's expensive dog bed during routine cleaning. The dog bed gets destroyed and the customer has to replace it. Then, they want you to cover their replacement costs.
Personal and advertising injury — A freelancer you hired to design your company website and logo copied them from another dog boarder in town. If that dog boarder sues you for copyright infringement, you could be on the hook for handling an expensive lawsuit.
General liability insurance is considered table stakes for any small business. When you're dealing with the public, canine or human, accidents can happen. When they do, your general liability policy can help cover the costs, so you can stay in business.
Professional liability coverage provides coverage for claims of negligence that cause a financial loss to a third party. For example, let's say one of your regular daycare clients is a successful show dog. We'll call him Beethoven.
During their latest stay, an employee accidentally left the door to Beethoven's kennel open. Beethoven raided your staff kitchen and got so sick he couldn't compete in his upcoming dog show. Beethoven's dog mom considers you responsible for any lost prize money, and wants you to pony up.
Professional liability is designed to cover claims like these. It also provides the legal defense if Beethoven's mom brings a lawsuit against you.
What other types of insurance do dog daycare businesses need?
General liability and professional liability are two key forms of insurance you'll want to have for your dog daycare business. Additional insurance policies you may want to consider include commercial property insurance, animal bailee, and workers' comp.
Commercial property: Dogs can get messy. They love to gnaw, dig, and chew. It's possible one of those things they gnaw, dig, and chew on will be something near and dear to your business. When that happens, you want to be able to replace it. Good thing there's commercial property insurance. This type of insurance policy protects your equipment, furnishings, tools, building, signs, and other physical assets in the event of damage or loss. Whether a dog chews up some wires and starts a fire or the washing machine breaks and floods your premises, commercial property insurance can help cover the replacement costs.
Animal bailee: Unfortunately, it's possible that a pet could get injured, fall sick, run off, or die during their stay at your dog daycare. If the unfortunate occurs, animal bailee coverage can help pay for veterinary bills, the cost of transporting a dog to an animal hospital or vet's office, and costs associated with coordinating search and rescue.
Workers' compensation: If anyone besides yourself works at your dog daycare, you'll need workers' compensation insurance. In fact, almost every state requires workers' comp insurance. Workers' comp helps pay out benefits to your employees in case they suffer a work-related injury, illness, or death that requires medical treatment or results in lost wages.
How much does Dog Daycare Insurance cost?
The cost of dog daycare insurance depends on a few things, including:
Your ZIP code — Different states have different requirements for insurers. Plus, some areas are more prone to risk than others. Dog daycares in a small town may have lower premiums than those located in a large city.
The size of your staff — The more employees you have, the higher your potential risk. Larger daycares with more employees on the payroll may pay more for their premiums.
The coverage limit you select — The cost of your business insurance also depends on the amount of coverage you purchase. A dog daycare insurance policy with a $2 million coverage limit will be more expensive than one with a $1 million limit.
Interested in how much dog daycare insurance will cost for your business? You can get an instant quote from Thimble.
How quickly can I get a Certificate of Insurance?
It takes less than a minute. You read that right. You can have a Certificate of Insurance (COI)
in your email inbox in under 60 seconds.
Even if you've been called in for a last minute pet sitting gig, you can request proof of insurance the moment you need it. In the space of time it takes to park your car and walk to the client's door, you can go from exposed to protected. And with Thimble you can request as many COIs as you need for free. It comes with all the flexibility a dog daycare professional needs to do their job the right way.
What are the Dog Daycare Insurance liability insurance limits?
Thimble's Dog Daycare Insurance comes with liability coverage limit options of $1 million and $2 million. We always suggest you select the upper limit—for a little bit more upfront cost, you receive way more protection.
I am also a dog walker, do I need a separate dog walking insurance policy?
You do not! These activities both fall under our Pet Services category.
Does Thimble's Dog Daycare Insurance cover damage to my equipment?
Yes, our Dog Daycare Insurance includes Business Equipment Protection Insurance (if it's a Thimble Monthly policy). You can choose between a $1000, $2500, and $5000 limit depending on how much coverage you need!
How do I get Dog Daycare Insurance with Thimble?
Most of the policies you'll encounter will only offer expensive, year-long policies. That's where Thimble is different. Our dog daycare policies are designed for small business owners who need flexible and affordable plans.
Calling all from-home-dog-sitters, our coverage is specifically works for you. While we don't cover loss or damage to premises themselves, while that cute fluffer is in your home, we've got you covered.
Still have questions?
Quick-thinking insurance for fast-moving businesses.
Simple.
Less questions. More options. Buy a policy online, in the app, or over the phone in minutes. Get to work before the other guys even call you back.
Scalable.
Any size. Every stage. Get coverage by the job, month, or year. Choose how you pay, then upgrade when business really takes off.
Flexible.
No hidden fees. No hard feelings. Modify, pause, or cancel instantly, whether work slows down or hiring picks up.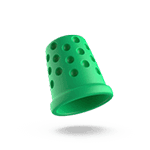 Get covered in minutes.
(Then get to work!)