Why do I need Consultant Insurance?
As a consultant, you bring a creative approach to problem-solving and help your clients tackle every challenge that comes their way. Shouldn't you do the same for your business? A Thimble insurance policy can give you the peace of mind you need to propel your business to new heights.
Consultant Insurance arranged by Thimble includes both general liability insurance and professional liability insurance to protect your business from both sides. 
General liability insurance is designed to provide protection from financial liability because of accidents that cause bodily injury, property damage, and personal and advertising injury to third parties. It also provides the investigation and legal defense for those types of claims brought against you and your business, even if you are ultimately not found to be responsible.
Professional liability insurance sometimes referred to as errors and omissions (E&O)— helps cover a client's financial losses stemming from your providing the wrong advice or your failure to provide professional services properly. This type of insurance provides the investigation, defense, and payment to settle these types of claims. As a consultant, professional liability insurance is essential. 
Quick Thinking Insurance
Quick Thinking Insurance
Quick Thinking Insurance
Quick Thinking Insurance
Quick Thinking Insurance
Quick Thinking Insurance
Quick Thinking Insurance
Quick Thinking Insurance
Quick Thinking Insurance
Quick Thinking Insurance
What does a BOP for Consultant Insurance cover?
Business Owners Policy (BOP): Designed for small-to-medium sized businesses, a BOP combines both general liability insurance with commercial property insurance in one convenient policy. It provides robust coverage for financial losses resulting from fire, theft, and accidents that cause injury or property damage to clients. You get the following coverage:
How much does small business insurance for consultants cost?
The cost of your Consultant Insurance Policy depends on a few factors. Things like your zip code, your coverage limit, the size of your team, and the length of your coverage all play a factor in determining the risk that comes with insuring your consulting business.
With Thimble, you don't have to commit to long, expensive policies, though. You can access flexible consulting insurance through the Thimble app and customize your coverage down to the month, day, or hour. Plus, if you need to add Additional Insureds, you can tack them on to your coverage with Thimble at no extra cost.
To get an accurate idea of how much consultant insurance would cost you and your business, get a quote from Thimble.
How quickly will I get a Certificate of Insurance?
Instantly. We've digitized the entire experience so that you'll receive a certificate of insurance in your inbox immediately after purchasing a policy with Thimble.
You can also add and modify your Additional Insureds as many times as you'd like directly from the Thimble App.
Quick-thinking insurance for fast-moving businesses.
Simple.
Less questions. More options. Buy a policy online, in the app, or over the phone in minutes. Get to work before the other guys even call you back.
Scalable.
Any size. Every stage. Get coverage by the job, month, or year. Choose how you pay, then upgrade when business really takes off.
Flexible.
No hidden fees. No hard feelings. Modify, pause, or cancel instantly, whether work slows down or hiring picks up.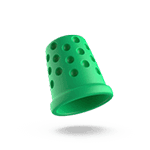 Get covered in minutes.
(Then get to work!)