Depending on the guest count, food, venue, and multiple other factors, the cost for your wedding can add up pretty fast. With all the other nuptial costs to worry about, the last thing you want on your special day is another expense.
Wedding Insurance can protect you from the financial consequences of liability claims made against you as the event organizer. Wedding insurance claims typically arise from accidents that cause property damage, injury, or illness on your wedding day.1 Not sure what it'll cost or whether it's worth the investment? Here's what you need to know.
How much does Wedding Insurance cost?
Tying the knot is enough pressure without having to think about having to pay for costly liability claims. That's where Thimble's Wedding Insurance, which is a type of special event insurance, can help.
Here's a range of how much Wedding Insurance can cost, based on event size:
What factors influence Wedding Insurance costs?
Among other factors, how much your Wedding Insurance premium will cost depends largely on how many guests you'll have. Some of the other criteria that insurers will use to determine your wedding insurance costs are:
Policy length: Generally, the length of your insurance policy affects your insurance premiums, because longer coverage periods increase insurers' risk. 2Thimble offers short-term Wedding Insurance ranging from hours to a week, so you can get coverage when you need it.
Location: The state your wedding is located in can affect your wedding insurance premium.3 You'll also likely need Wedding Insurance whether you're hosting your wedding at a special venue or at home.
Alcohol service: You may plan to serve drinks at your wedding. If guests consume alcohol at your reception, they could cause harm to themselves or others, and you could be held liable because you allowed the alcohol consumption. With Thimble, in many cases, host liquor liability protection is included in Wedding Insurance at no additional cost.
Number of attendees: Naturally, the more guests you have at your wedding, the greater the risk that an accident could happen. Therefore, your premium will increase along with your headcount.
What does Wedding Insurance cover?
Wedding insurance safeguards the individuals who planned the wedding and bought the insurance against financial liability for accidents that occur on their wedding day. Wedding Insurance can protect the organizers from the fallout of risks such as:
Third-party bodily injuries: Someone can easily trip over the bridal dresses' long train and sustain an injury. You could face a claim for their medical expenses.
Third-party property damage: If a guest's property is accidentally damaged at the wedding, you could be liable for the cost of its repair or replacement.
Personal and advertising injury: If someone says something inappropriate during your wedding and someone accuses you of slander or libel, this could result in a claim against you.
Your Wedding Insurance will also provide you with investigation services and a legal defense against claims, even if someone brings an unfounded claim against you.
When should you get wedding insurance?
You don't want to start your new life with an expensive claim hanging over you. With Thimble, you can purchase Wedding Insurance as early as six months prior to your special day. If you hit a snag before your wedding day, you can usually cancel your policy without penalties prior to the time it becomes effective, but make sure you read your policy's fine print to understand how your insurer defines the "start time" for your coverage.
While you're deciding whether to get wedding insurance, remember:
Your insurance premiums can range between $115 to just over $300, depending on how many attendees you have and multiple other factors.
Wedding insurance can protect you from having to pay out-of-pocket for claims relating to third-party bodily injuries, property damage and other liabilities.
Thimble's special event insurance provides a defense against claims, whether they are true or false.
Make sure you're protected on your walk down the aisle. That begins with preparing for the worst-case scenarios before your big day.
What if I am a vendor at a wedding?
Your clients can't list you as an insured on their policy, which means you need to have your own coverage. 4 However, your clients may ask you to add them as an Additional Insured and provide them with a Certificate of Insurance. As a business owner, you'll need to have general liability insurance and very possibly professional liability insurance.
What are Thimble's special events coverage policy limits?
With Thimble, couples can buy a Wedding Insurance policy with a liability limit starting at $1 million per occurrence and a $1 million aggregate limit. You also can increase the liability limit to $2 million with a $2 million aggregate limit.
What other types of insurance might I need for a wedding?
In addition to a liability insurance policy, couples can purchase cancellation or postponement coverage as well as additional insurance to cover deposits. 5
Can you cover cancellations?
No, our policies don't cover event cancellations, but your policy is fully refundable if it has been canceled before the policy's start date and time.
Still have questions?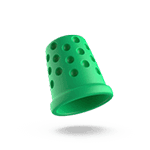 Quick-thinking insurance for fast-moving businesses.