So you want more freelance writing clients.
Let me let you in on a little secret. It doesn't matter how great of a writer you are.
When it comes to getting more (or better) clients, writing's only the half of it — maybe even less.
You need to be a great marketer, too.
Don't worry. Marketing your freelance writing business doesn't have to be a drag. Get strategic with it, and you can put much of your marketing on autopilot.
Are you ready to market yourself as a freelance writer? Then read on. Here are ten tips that will help you do just that.
1. Choose a niche.
Which is easier:
Learning about every topic in the world and deep-diving on the research every time you get a new client; or
Narrowing in on a few topics and becoming an expert, so your writing just flows?
(Hint: it's the second option).
Choosing a writing niche not only makes it easier for you to write; it makes it easier to get clients, too. When you specialize in a niche, your name starts to show up and circulate in that world. Future clients are more likely to happen upon your work, and your LinkedIn connections are more likely to know each other.
The end result? You build a reputation of knowing your stuff, and more people want you to write for them.
2. Nail your author bio.
Think of your author bio as a free billboard that can advertise your writing services. Include the types of writing you do and the types of clients you write for, such as "Sara is a freelance journalist who covers fintech and cybersecurity."
Also, customize your bio for each site and publication you write for. The more you can have it speak directly to the needs of the website's target audience, the more likely they are to feel that you "get" them — and reach out to hire you!
3. Build a website.
I know, I know — building a website sounds like so much work, but it doesn't have to be. From Wix to Squarespace, there are plenty of website builders out there that practically do the work for you. They even have pre-built freelance or writer templates you can choose from. Here's an example from Wix:1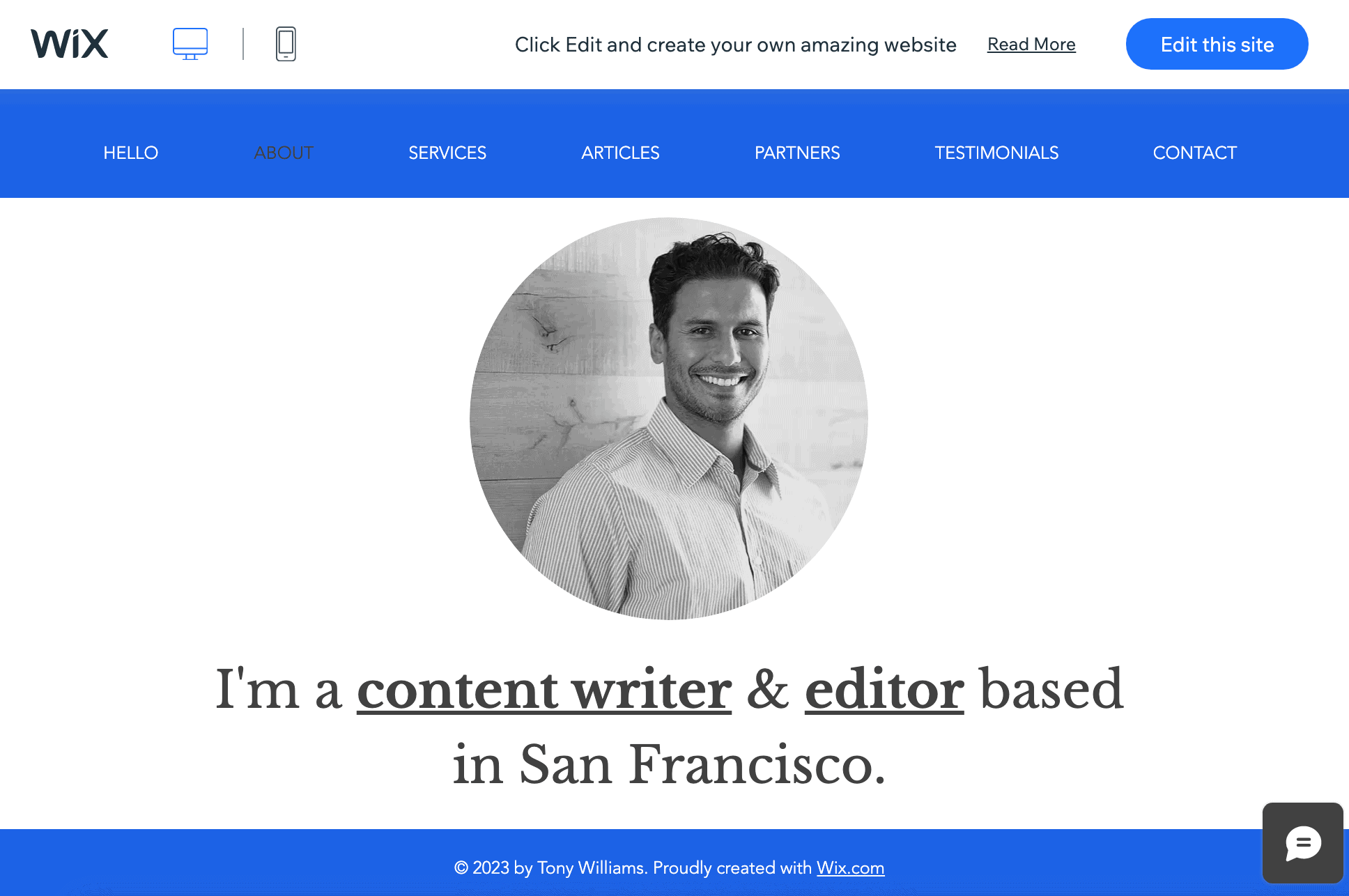 Once you've selected a template, all you have to do is plug in:
Your tagline and a short bio
An overview of your services
Writing samples
Contact information
A few rave client testimonials
4. Use your email signature.
How many emails do you send a day? Dozens, probably. Put your email signature to work as your marketing assistant!
Include your:
Name
Tagline (e.g. "B2B Freelance Writer")
Email address
Website
LinkedIn profile
Phone number,
Headshot
(By the way, this is the same stuff you'll want to print on a business card.)
You never know what email recipient will turn into your next client.
5. Promote your portfolio.
There's no better way to convince a prospective client that you're the writer for them than by sharing a relevant sample of your previous work.
Whenever a new piece goes live, make it a habit to update your portfolio on your website. You can also add your latest writing samples to your LinkedIn profile, freelance platforms like Contently, and even Pinterest!
All you have to do is copy and paste the link to add it. It's so easy, it barely feels like marketing.
6. Optimize your LinkedIn profile.
You know who's on LinkedIn? All the content strategists, marketers, and editors who will be hiring you.
So, make sure your LinkedIn profile is optimized to help them find you. Devise a brilliant headline, add your writing samples, and follow up with satisfied clients to write you a reference.
Pro Tip: You can repurpose these LinkedIn references as testimonials for your writing website.
7. Start a blog.
If you've got some down time, use it to further hone your writing skills via your very own blog. You can start a blog on your favorite hobby or a topic of your choice, or, you can get super strategic and blog about topics in your writing niche. Both options can bring you new clients.
Just make sure you post semi-regularly. You've got to keep your blog active if you want it to be an effective marketing tool for your freelance writing business.
8. Get to know other writers.
When you work for yourself, you don't have access to the same network of peers you do in a traditional 9 to 5. That's why you need to create your own. Form relationships with other freelance writers. You can share advice, lean on each other for support, and refer each other to gigs you're not interested in.
It may sound counterintuitive, but your competition can actually be your greatest asset when it comes to finding new clients.
9. Connect with influencers and feature them in your work.
Adding quotes from real people always spices up an article. It's also an excellent way to market your freelance writing business.
Identify influencers in your niche. Then, reach out whenever you write about a topic they're an expert on. Ask them to provide a quote for your article. In the course of your conversation, they'll come to understand you're a writer. And now that you've done them the favor of some free publicity, the next time they (or a colleague) is looking for a freelance writer, guess who will come to mind first? That's right — you!
10. Actively say you're looking for work.
Seriously! Sometimes marketing your writing business really is that easy.
Let your network know you're looking for work. Include the phrase "freelance writer for hire" to your author bio. On LinkedIn, add the #OpenToWork badge2 to your profile pic and specify the type of writing work you're interested in.
Ready, set, market!
Marketing yourself as a freelance writer takes some work, but it's 100% worth it. Get started by:
Choosing a niche.
Nailing your author bio.
Building a website.
Using your email signature.
Promoting your portfolio.
Optimizing your LinkedIn profile.
Starting a blog.
Getting to know other writers.
Connecting with influencers and featuring them in your work.
Actively saying you're looking for work.
The tips above will not only grow your client base, but they'll help establish your thought leadership and credibility as a bonafide freelance writer. The more people trust you and your work, the more new work starts to flow in.
You know what else helps clients trust you? Having business insurance. Protect your writing business with Thimble's Freelancer Insurance. It only takes 60 seconds to get your free quote.
Sources: