As a photographer, you've spent countless hours honing your skills and precious dollars purchasing the best equipment to capture your shots. Like your photos, you need just the right amount of exposure to leverage the time, effort, and money you've put into your career. Photography-sharing websites can be an excellent way to attract clients and grow your business — for free!
There are several important factors to consider when selecting the best platform to showcase and share your photography, including ease of use, shareability, storage space, and photo quality. Another important one is cost. And since you can't beat free, here are 10 highly-rated, free photo-sharing sites for photographers.
One note before we jump in: We did not include popular social media channels in order to narrow our focus (so to speak) to sites specifically dedicated to photography. Let's snap away!
1. Flickr
Founded in 2004, Flickr is one of the oldest photography-sharing websites out there. It remains one of the highest-rated platforms to this day. Flickr's greatest strength may be its community feature. Photographers of various skill levels and interests can follow and interact with each other, join groups, and generally get inspired.
Pros:
Large communities of professional and amateur photographers
Photography collections organized by themes and techniques
A rich selection of photo-editing and sharing tools, along with a wide variety of tagging features
Easy user interface
Cons:
Free version limited to 1,000 photos
The unpaid version includes ads on your profile, photos, and albums
Photos are not curated, so quality can be hit or miss if you're looking to find high-quality work from other photographers
Professional upgrade options: Paid plans starting at $6.99/mo. or $60 per year include unlimited storage, ad-free experiences, and advanced statistics.
2. Imgur
Unlike many free photo-sharing sites for photographers, Imgur offers unlimited uploads and storage time. The site is easy to use and has no shortage of content. However, one of Imgur's taglines is "Millions of people. Billions of cat GIFs." They're not joking. Professional-level photography can be drowned out at times by the abundant supply of meme-style content.
Pros:
Unlimited image uploads
Unlimited storage periods
One-click sharing capability on major social platforms
Cons:
Lots of non-professional content, which can seem overwhelming at times for serious photographers
Users can only upload 50 images per IP address per hour
Lossy compression applied to some pics, so avoid using it as a backup solution
Professional upgrade options: Users can pay $5/mo. for an ad-free experience.
3. 500px
The minute you land on 500px's home page, you'll realize right away that the site caters to professional photographers. On the 500px rating system, other users are able to like, favorite, and comment on your photos, and you can do the same thing for your peers' work. A number of well-known photographers use the site to share content and it is an excellent source of inspiration for photogs.
Pros:
Oriented to serious amateurs and professionals, so less "image spam"
Allows users to create a directory listing, promote services, and get hired
Analytics offer insights into how photos are performing
Cons:
Maximum of seven image uploads per week
2,000 total uploads allowed
JPEG file format only
Professional upgrade options: Professional plan charges $7.99/mo. and offers unlimited uploads and more enhancement options for directory listings.
4. Deviant Art
If you're looking for a photog-only site to showcase your photography, Deviant Art may not be your top choice. However, some are inspired by the site's eclectic mix of artists who can post images of their work, including animators, graphic designers, and even sculptors, potters, and jewelry designers. The site is organized to allow users to easily find a robust network of photography-focused peers. Once you connect, you can join discussion forums, comment on each others' works, real-time chat, and more.
Pros:
Network and join communities with like-minded artists
Create a profile and personal gallery of your photographs
Get constructive feedback from other photographers
Cons:
Free accounts limited to 2 GB of upload space
Not dedicated exclusively to photography
The free version has ads
Easy for users to copy images, so consider protecting your work with watermarks
Professional upgrade options: Pro plans start at $4.95/mo. and enable an ad-free experience in which users can also sell directly from the online store.
5. Unsplash
Unsplash is a source for free, downloadable stock images for individuals and companies needing quality photographs for use in blogs, articles, websites, etc. Although photographers who contribute their work do not get paid for these downloads, the site can provide considerable exposure for pros looking to build their reputation. Unsplash generates over 16 billion photo views per month thanks to the more than 266,000 photographers who have contributed an estimated 3.2 million photos. For photogs, relinquishing their licensing rights is a deal-killer. Others welcome the chance to promote themselves.
Pros:
Free exposure could lead to paid gigs
Analytics to track engagement with your submissions
Active chat room offers networking opportunities and a chance to solicit feedback from more than 200,000 creators
Cons:
Photographers submitting work do not get paid for downloads
Search function sometimes clunky
Professional upgrade options: None; the site is free for everyone.
6. Behance
Because Behance is owned by Adobe, it integrates seamlessly into your workflow when you're working with other Adobe products, such as photo editing software. Another advantage is that the business community uses Behance as a way to find freelance talent, so it may be a great photo-sharing option for photographers looking to attract new clients for paid work.
Pros:
No limit on photo uploads
Syncs with Adobe software
Opportunity to connect with buyers and companies looking for freelancers
Cons:
Photos require compression before uploading
Not a source for storing your entire collection, only individual projects or collections (the site is intended to showcase your star projects)
Professional upgrade options: None; the site is free.
7. ImageShack
ImageShack could be among the best platforms to showcase photography, but it does not offer a free level. So why are we including it in a post about free photo-sharing sites for photographers? Well, because the site offers a 30-day free trial that provides access to all premium features. And at just $3.99 for the feature-rich basic plan, it may not be free, but it's probably cheaper than a cup of coffee at your favorite java joint.
Pros:
Unlimited uploads and storage space
Easy to tag, organize, and share photos
The robust feature set includes image links, a mobile app, private albums, and more
Cons:
Free version only available for 30 days (but includes all premium features)
Photos limited to 25 MB in size
Professional upgrade options: Paid options starting at $3.99/mo.
8. 1x
1x is unique from other free photo-sharing sites for photographers. In order to be featured on the site, the site's team of curators must approve your photographs. There's no charge for submission, however. Once your photos are accepted, your work will be in the distinguished company alongside numerous collections of gorgeous photography. Plus, you'll receive pro-level feedback on your technique and style from 1x's curators.
Pros:
Recognition for your work if selected
You can sell your photos from the site once approved
Insightful feedback on your work from 1x's curators
Cons:
Photographs must be accepted to be featured
Not an appropriate solution for storage or large numbers of uploads
Professional upgrade options: None.
9. Postimage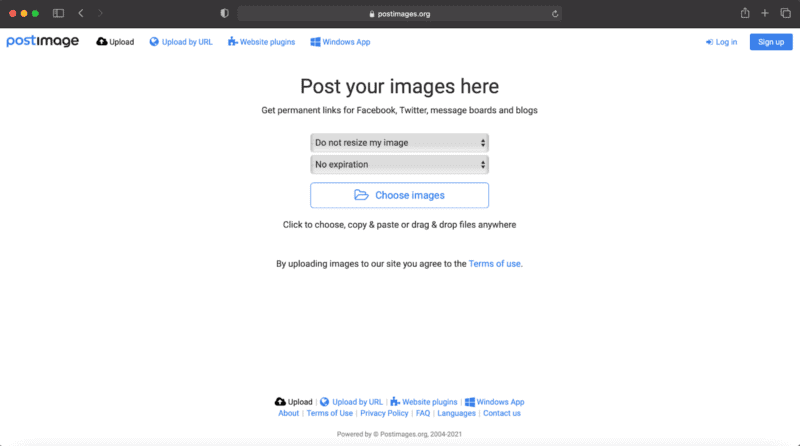 Postimage is a no-frills image hosting site that does not stray from its lane. Although it doesn't have the community interactivity or the ability to create online portfolios, it's a solution for photographers who simply need an image host. Photographers use the site to generate permanent links for their photos to use for their website, social media channels, blogs, etc.
Pros:
Fast, reliable image hosting
Easy to use
No limit on the number of uploads you are allowed
Cons:
None, really, if you're simply looking for an image-hosting solution.
Professional upgrade options: None. The site is free to use.
10. Pixabay
Similar to Unsplash, Pixabay is a site for photographers who are willing to post high-quality, copyright-free images in exchange for exposure. The site allows anyone to download images for free and to use them without attribution, even for commercial use. Pixabay bills itself as a "vibrant community of creatives" and enforces a fairly stringent quality control process. While this could limit the number of photos you're able to feature on the site, it also guarantees that your work will be presented among other photos that meet Pixabay's quality guidelines.
Pros:
It's a litmus test for photographers wanting to test the quality of their work by seeing if their submissions are accepted
Recognition and exposure for photographers who meet the quality guidelines
The more high-quality photos you submit, the more you'll be allowed to upload
Cons:
Contributors must give up rights to images
Photos must meet stringent quality guidelines
No bulk photo uploads
Professional upgrade options: None.
We've got your back when you're behind the camera
When looking for the best solution to showcase photography, first consider the business needs you're trying to address as you evaluate the free photo-sharing sites for photographers we've listed above.
And if you're shuttering at the thought of buying business insurance, point and click on over to Thimble. Our Photographer Insurance was developed with you in mind. If you find yourself in the center of some kind of legal drama instead of behind the camera, you'll be glad to know that you have both general liability insurance and professional liability insurance. (And don't forget Business Equipment Protection for your gear.)
You can customize your coverage by the job, month, or year. Download the Thimble app or simply click "get a quote," answer a few quick questions, and click to purchase. We make insurance a breeze so you can let your photography shine.