Artist Insurance
Get an insurance policy by the hour, day, or month in 60 seconds.
4.7/5 stars from 638 reviews on Trustpilot
Best insurance for the Smallest Businesses
Coverage

General Liability

Equipment Coverage

$1,000,000 Limit
| | |
| --- | --- |
| Crew | |
| | |
| --- | --- |
| Pause Policy | |
4.7/5 stars from 638 reviews on Trustpilot
Best insurance for the Smallest Businesses
Why do I need artist insurance?
If you're an artist, you regularly share your creativity, passion, and inspiration with the world. From painting, to writing, to photography—whatever your artistic medium, you have an opportunity to impact people's lives for the better.
And although many artists make their mark by pushing borders and taking risks, there are some risks that can be mitigated, particularly those that lead to lawsuits.
This is why you need Thimble's Artist Insurance.
Have you considered what would happen if a client were to incur an injury or suffer damages to their property while you're providing your services? A single claim could hinder your ability to produce the art you love.
For example, some artists focus on using heavy materials (marble, glass, metal) to build large installations. Should a mishap occur and somebody gets injured or if there's damage to a client's property, you could be held liable.
Or, if you've been contracted to paint a mural for an event (only to fail to deliver it by the deadline), the client could sue you for professional negligence, claiming they lost money because people no longer wanted to buy tickets.
If you want to do your best artistic work, you need assurance that a liability suit or litigious client won't be able to drain your income and derail your career. When you're covered by a general liability insurance and professional liability insurance policy, you can work confidently and sleep peacefully knowing that you're protected from risk.
Art is expression. It's passion. It's emotion. And it's difficult to create when you're worried about things like getting sued. Thimble's Artist Insurance protects your business and allows you to work with the peace of mind needed for your medium.
While public liability insurance for artists can be complicated, our art is simplifying its processes for the public.
What does Artist Insurance cover?
Thimble's Artist Insurance policy includes both general liability and professional liability coverage. It's designed to protect you in situations like the following:
Third-party, non-employee bodily injury – As a caricature artist, you have scores of clients who sit for paintings every single day. Should the stool that you have them sit on collapse during a session, it could result in an injury. If any of your models incur an injury while you're providing your services, you can be held liable.
Third-party property damage – If you're a balloon artist, you're often invited to clients' homes for parties or events. Should you work at someone's house, you could inadvertently damage furniture in their home with your equipment. Thus, you could be liable for third-party property damage.
How much does Artist Insurance cost?
The rate for Thimble's Artist Insurance is based on four factors: your location, crew size, coverage limit, and policy length.
At Thimble, we're bringing game-changing flexibility with on-demand insurance policies sold by the hour, day, or month. It's short-term insurance that works when you do, and lets you save between gigs.
Protect your business today. Get your free artist insurance quote now.
How quickly can I get a Certificate of Insurance?
With Thimble, you can get a Certificate of Insurance instantly. By downloading the Thimble app, inputting a few quick details about your business, reviewing your free quote, and purchasing, you'll have a COI on hand immediately.
Did you get called for a last minute event? Most venues will ask that you show proof of insurance. With Thimble, you can provide proof in 60 seconds.
Whether you want to extend coverage, or cancel the policy an hour before the show, Thimble gives you the flexibility your small business needs. On top of that, you can add Additional Insureds and generate as many COIs as you'd like (completely free).
You focus on your art. We'll focus on protecting you while you're creating it.
The studio I work for already carries business insurance. Do I need my own artist insurance policy?
Even if you work for an art studio that has business insurance, it's always important that you have your own policy. As a small business owner, you need to ensure that you're protected from liability. Your insurance needs to be on your terms.
What happens when you're named in a lawsuit against the studio and it turns out their insurance doesn't cover you?
By purchasing your own artist liability insurance policy, you not only prevent potential liability risks, but also demonstrate to clients and event organizers that you're a working professional. With Thimble, you know that your business is covered wherever you go, whenever you work.
Being protected from claims of third-party bodily injury, property damage, negligence, and personal and advertising injury ensure that your business is set up to succeed.
What are the Artist Insurance policy limits?
Thimble's Artist Insurance policy includes either a $1,000,000 or $2,000,000 limit. You can choose a $1 million limit or opt in for more coverage with $2 million, depending on the amount of risk you want to be covered against.
Are workplace injuries of my staff covered?
No. If you have employees or hire people to help you at your studio, then you should look into workers' compensation coverage. General liability only protects against non-employee, third-party injury.
Does Thimble's Artist Insurance cover damage to my equipment?
Also no. Thimble's Artist Insurance only covers third-party property damage. So, if you're worried about protecting your tools and equipment, you'll want to look into a commercial property policy.
How do I get Artist Insurance with Thimble?
With Thimble, it takes less than a minute to go from being exposed to liability to having coverage. Download the Thimble mobile app, provide a few quick details, and you'll have a free quote immediately. Once that's done, you can purchase the policy and have your proof of insurance on hand and in your email inbox. Get your artist insurance quote now.
Still have questions?
Quick-thinking insurance for fast-moving businesses.
Simple.
Less questions. More options. Buy a policy online, in the app, or over the phone in minutes. Get to work before the other guys even call you back.
Scalable.
Any size. Every stage. Get coverage by the job, month, or year. Choose how you pay, then upgrade when business really takes off.
Flexible.
No hidden fees. No hard feelings. Modify, pause, or cancel instantly, whether work slows down or hiring picks up.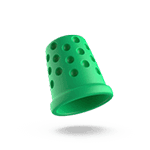 Get covered in minutes.
(Then get to work!)