Artisan Contractor Insurance
Get an insurance policy by the hour, day, or month in 60 seconds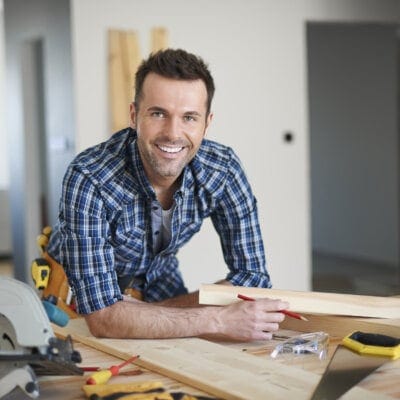 Why do I need an Artisan Contractor Insurance policy?
You're a highly sought-after artisan contractor with a waitlist of clients wanting your services. As an artisan contractor, you provide specialty services, sometimes under the direction of a general contractor. Artisan contractors can be carpenters, electricians, tree surgeons, interior decorators, or other skilled professionals who work with tools on a clients' premises.1
Even though you excel at your craft, business comes with a certain amount of risk (e.g., clients can trip over your materials, and sharp tools can cause injury).
Artisan Contractor Insurance can protect you from the financial consequences of claims that can arise if something goes wrong on the job. If you leave your safety equipment lying around, and a client trips on it and hurts herself, you can rest easy knowing that your small business insurance has your back. Or if, you accidentally burn a client's carpet during your electrician visit, you won't be on the hook for the bill.
What is covered under the Artisan Contractor Insurance policy?
Artisan Contractor Insurance is a type of general liability insurance designed to protect you from the costs associated with liability claims. Because you work with tools and in an environment that you often don't control, a lot that can go wrong.
When a claim arises, your policy will also provide investigation and a legal defense to ensure that the claim is valid and not fraudulent or overstated.
Your Artisan Contractor Insurance policy offers coverage for:
Third-party, non-employee bodily injury
A client's child sneaks onto the worksite and gets a cut. His bodily injury may be your liability, but Artisan Contractor Insurance can cover the cost of his medical expenses.
Third-party property damage
If you accidentally drip plaster on the homeowner's carpet, it will be your responsibility to pay to clean, repair, or replace the carpet.
Quick thinking insurance for small businesses.
Quick thinking insurance for small businesses.
Quick thinking insurance for small businesses.
Quick thinking insurance for small businesses.
Quick thinking insurance for small businesses.
Quick thinking insurance for small businesses.
Quick thinking insurance for small businesses.
Quick thinking insurance for small businesses.
How much does Artisan Contractor Insurance cost?
The cost of Artisan Contractor Insurance is contingent on several factors:
Your ZIP code
Whether you work alone or if you have a crew (and crew size)
Policy term
Desired coverage limit.
Then, choose a policy by the job, by the month, or by the year. You only need to pay for coverage when you're working.
When you buy Thimble's Artisan Contractor Insurance, you'll get your policy and Certificate of Insurance (COI) within 60 seconds. Make that as many COIs as you need. We know artisan contractors must provide COIs frequently to clients, so we make it easy for you to download what you need, as often as you want, for no extra cost. Oh, and you can tack on as many Additional Insureds as necessary at no additional cost.
Artisan Contractor Insurance FAQs
How quickly can I get a Certificate of Insurance?
If you need coverage quickly, Thimble has you covered. It takes just minutes to complete an application, and once you purchase the policy, your COI is available for download immediately via email or through the Thimble app.
If a client cancels the job and you don't need insurance, you can get a full refund as long as you cancel at least an hour before the policy start date and time.
Just enter a few key details about your business and get a quote instantly. We've mastered the art of small business insurance so you can focus on yours.
What are the Artisan Contractor Insurance policy limits?
It's important to get enough coverage to protect you from costly claims. The standard Thimble policy has a limit of $1 million in liability coverage. You have the option to increase the coverage to a $2 million limit if you are concerned about larger claims.
Are workplace injuries of my staff covered?
No. If your staff gets hurt, general liability insurance will not cover those incidents. Most contractors with one or more employees will need to have workers' compensation to cover employee injuries.
Assume your apprentice hurts his back while moving supplies on the job site. As his employer, you are responsible for his medical care and his lost wages. Workers' compensation insurance pays for those things so you don't have to.
Does Thimble's Artisan Contractor Insurance cover damage to my equipment?
It's important to protect your own equipment and tools with business equipment insurance, just like you protect others' property with general liability insurance. If your tools are stolen or accidentally damaged, business equipment protection can help you repair or replace them. This policy protects your stuff while in transit and at the job site. Choose your policy limit of $1,000, $2,500, or $5,000.
How do I get Artisan Contractor Insurance with Thimble?
Thimble makes it easy to get a quote and buy a policy. Start by clicking on "Get a Quote" on the home page. Give us your ZIP code and policy terms, and we'll generate an instant quote. Click once to purchase and receive your policy and COI immediately.
Don't waste a minute. Get your Artisan Contractor Insurance quote today.
Quick-thinking insurance for fast-moving businesses.
Simple.
Fewer questions. More options. Buy a policy online, in the app, or over the phone in minutes. Get to work before the other guys even call you back.
Scalable.
Any size. Every stage. Get coverage by the job, month, or year. Choose how you pay, then upgrade when business really takes off.
Flexible.
Total Control. Seamless edits. Modify, pause, or cancel instantly, whether work slows down or hiring picks up.