Alarm Installer Insurance
Get an insurance policy by the hour, day, or month in 60 seconds.
4.7/5 stars from 638 reviews on Trustpilot
Trusted by
Coverage

General Liability

Equipment Coverage

$1,000,000 Limit
| | |
| --- | --- |
| Crew | |
| | |
| --- | --- |
| Pause Policy | |
4.7/5 stars from 638 reviews on Trustpilot
Trusted by
Why do I need alarm installer insurance?
As an alarm installer, you take measures to provide security systems for individuals and families so that they can feel protected from potential hazards. Of course, no one puts themselves or their families at risk intentionally, but nobody can anticipate all the unknown variables or simple accidents that can happen.
The same applies to your profession. That's why you need Thimble's Alarm Installer Insurance.
While you ensure the safety of others, have you taken the necessary measures to protect yourself? It's impossible to plan for every possible outcome to give yourself peace of mind. That's why you need Thimble Alarm Installer Insurance.
Say, for instance, that your client becomes a victim of a break-in and claims that the response time of the system you installed was delayed. They could attempt to hold you liable for their damages and losses. Now, not only could you lose time and resources dealing with the lawsuit, but your reputation could suffer from the implication that you failed to provide an effective alarm system.
Or what if, while installing an alarm system, you leave behind a set of tools that your client ends up tripping over. It was a harmless mistake, but they injure themselves in the fall. Now they file a claim against you for bodily damage, even if you had warned them that you're leaving your equipment in the doorway beforehand.
Taking responsibility for others' safety can be a stressful endeavor. An error or oversight could have frightening consequences. You should be able to focus on your craft without the constant anxiety of a costly mistake. Take a page out of your clients' book, and actively safeguard your business.
By purchasing Thimble's General Liability Insurance, you can mitigate the risks you face when on the job. You wouldn't advise a customer to wait until after a burglary to install an alarm. Treat your business the same way with Thimble.
What is covered under the Alarm Installer Liability Insurance policy?
Thimble's Alarm Installer Insurance is structured to protect you from situations like the following:
3rd Party, non-employee bodily injury
While installing a security system, you leave the client's home to take a call. Having left an exposed hot wire open, the client goes to poke around and is electrocuted. He expects you to pay for the ambulance and ER visit.
3rd Party property damage
While installing a security system, you leave the client's home to take a call. Having left an exposed hot wire open, the client goes to poke around and is electrocuted. He expects you to pay for the ambulance and ER visit.
How much does Alarm Installer Insurance cost?
Thimble aims to provide incredibly affordable insurance by implementing a pay-when-you're-working structure. This means that you're only ever paying for insurance during the hours you're actively working.
The rate is based upon your location, the size of your crew, your policy limit, and the length of your desired coverage—choose a policy by the hour, day, or month.
If you want to add Additional Insureds or generate more than one COI, this is completely free. Thimble saves you money because our policies only work when you do.
Protect your alarm installer business with flexible, affordable, and on-demand coverage from Thimble. Get your free Alarm Installer Insurance quote now.
How quickly can I get a Certificate of Insurance?
Thimble can provide you a Certificate of Insurance in a matter of seconds. As soon as you input the few pieces of relevant information, we'll generate a free quote outlining the cost of your coverage.
Once purchased, your COI is delivered directly to your email inbox.
Is there a job you just booked unexpectedly? The property manager or homeowner is likely going to want to see proof of insurance. If that's the case, you can show it to them directly from the Thimble mobile app.
Additionally, you can cancel an hour prior to the term set forth by the policy at no charge whatsoever to you.
If you need to make changes, you can add Additional Insureds, again for free, directly from the Thimble app. That's total flexibility.
What are the Alarm Installer Insurance policy limits?
Thimble offers an Alarm Installer Insurance policy limit of $1 million or $2 million. While it might depend on your business's individual needs, there isn't a substantial difference in prices between the two. For alarm installers, it may be better to be overly cautious.
Are workplace injuries of my staff covered?
The policies described only cover third-party claims. If you'd like to protect your employees and subcontractors, you should invest in a workers' compensation policy.
Does Thimble's Alarm Installer Insurance cover damage to my equipment?
General liability insurance does not cover damage to your equipment. Consider purchasing a commercial property or auto insurance policy (for a company vehicle) for coverage of your personal equipment.
Still have questions?
Quick-thinking insurance for fast-moving businesses.
Simple.
Less questions. More options. Buy a policy online, in the app, or over the phone in minutes. Get to work before the other guys even call you back.
Scalable.
Any size. Every stage. Get coverage by the job, month, or year. Choose how you pay, then upgrade when business really takes off.
Flexible.
No hidden fees. No hard feelings. Modify, pause, or cancel instantly, whether work slows down or hiring picks up.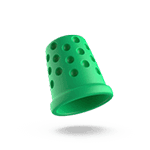 Get covered in minutes.
(Then get to work!)