What you need to know about party insurance.
It's easy to get a group of family and friends together for a party celebrating an event or milestone. The problem is that when people gather, things can get out of control and lead to injuries or property damage. (We're looking at your uncle challenging the boys to piggyback races.)
We can't prevent him from slipping while carrying another person on his back. We can protect you with Party Insurance, which covers you if your party runs into trouble.
What is party insurance?
Party insurance isn't a guarantee that your party will be a smashing success. It is a type of special event insurance that covers the host from financial loss resulting from claims of bodily injury, property damage, or personal and advertising injury from third parties that can occur at any party. These types of claims are often innocent accidents that could be costly to you if you don't have insurance.
It covers the actual event as well as the time you spend setting up and cleaning up, and provides coverage for liquor liability at BYOB events in case one of your guests over-indulges resulting in injury or damage. Party Insurance is a cost-effective way to be sure your party doesn't lead to a major financial strain.
What does Thimble's Party Insurance cover?
Any one of your guests can make a claim against you, even if it didn't happen or wasn't your fault. Party Insurance provides the legal defense and investigation to protect you when a third party claims that you are responsible for causing their injuries or property damage.
Before you get this party started on a Saturday night, know what kinds of claims Thimble's Party Insurance can cover you for, including:
Third-party, non-employee bodily injury
You forget to warn your guests of the loose step leading to your kitchen and someone stumbles over it, leading to an injury.
Third-party property damage
Covers damages to guests' or vendors' personal property. This might happen when a guest bumps a table with a wine glass tower, causing all the glasses to come crashing down, spilling wine all over your guests clothing and other property.
Personal and advertising injury
Misunderstandings and even fights can occur at parties. Personal and advertising injury coverage kicks in if your celebration goes too far and you are accused of slander or libel.
Damages from liquor liability
If you have a BYOB event, your guests may be overserved and injure themselves or someone else. If this leads to property damage or injuries either at the party or on their way home, you could be held liable.
Quick thinking insurance for small businesses.
Quick thinking insurance for small businesses.
Quick thinking insurance for small businesses.
Quick thinking insurance for small businesses.
Quick thinking insurance for small businesses.
Quick thinking insurance for small businesses.
Quick thinking insurance for small businesses.
Quick thinking insurance for small businesses.
How much does Party Insurance cost?
We know that you want your party budget to go toward the festivities and insurance can seem like a bummer. This is why we have made our Party Insurance budget-friendly. Costs vary depending on the size of your party and the location.
Party Insurance cost
Here is a general range of costs for a one-day event:
| Size | Number of Attendees | Premium Range |
| --- | --- | --- |
| Small | 1 - 50 | $115 |
| Medium | 200 - 300 | $189 - $203 |
| Large | 750 - 1,000 | $266 - $301 |
| | | |
Who needs Party Insurance?
Anyone throwing a party should consider getting Party Insurance. It doesn't matter if it's a retirement party, a quinceanera, or an anniversary party. If you are renting a venue, you will likely need general liability coverage to satisfy the lease terms.
Even if you are hosting the party at your home, you need to be prepared for the various risks you are exposed to. Get Party Insurance so that you aren't coughing up dough to pay for accidents or injuries.
Time to get the party started
Don't let accidents ruin your celebration. Get Party Insurance to protect against the costs associated with injuries or property damage that happen at your party. Because it is special event insurance, you can get a policy for just the day of your party that meets your budget or coverage for up to a week, you party animal.
Party Insurance FAQs
What if I only need one-day Party Insurance?
Thimble's special event insurance is designed for short-term needs. Our policies will cover your event for one day up to five days. That includes some extra time for setup and breakdown. Cancel your policy anytime before the policy becomes effective to get a refund.
Do I need Party Insurance if my venue has commercial liability insurance?
You will need to have your own event insurance policy even though the venue has its own commercial liability insurance. In fact, most venues will require you to furnish a Certificate of Insurance (COI) that demonstrates you have insurance for the event.
Do I need Party Insurance if my event is held at a private home?
Liability exists even if you aren't at a big venue, and you'll want to have protection for your event. Check with your homeowners insurance provider to see whether you need an amendment to your policy or if you need specialized event insurance to make sure you are protected for your big day.
What are Thimble's Party Insurance policy limits?
Our liability limits start at $1 million per occurrence with a $1 million aggregate. You can increase the liability limits to $2 million per occurrence with a $2 million aggregate if you choose.
Does Party Insurance via Thimble cover event cancellation?
No. Our policies do not cover event cancellation. However, your event insurance policy is fully refundable as long as it is canceled before the policy start date/time.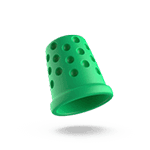 Quick-thinking insurance for fast-moving businesses.