Filters
Don't get lens filters confused with editing filters. Camera lens filters snap directly on your lens to improve image quality and protect your lenses from damage. There are three main types of filters:
Ultraviolet filters block light waves to increase clarity and protect your lens.
Polarizing filters increase contrast and eliminate glare from images.
Neutral density filters reduce the amount of light coming into the camera during bright light conditions.
Our pick: Lens Filter Kit by Altura Photo
Pros:
Includes three top filters
Available in multiple lens sizes
Cons:
Doesn't fit all lens brands
Price: Starting at $17.99
Rating: 4.5/5
Tripod
Even professional photographers with a steady hand need to rely on a tripod every once in a while. A good tripod will help you frame your shot and keep the camera steady for crystal-clear images. In addition, tripods are a must-have for long exposure times.
Our pick: Gitzo GT2545T Series 2 Traveler Carbon Fiber Tripod
Pros:
26-lb load capacity
Locking leg system
Portable
Cons:
High price point
Storage bag not included
Price: $713.88
Rating: 4.5/5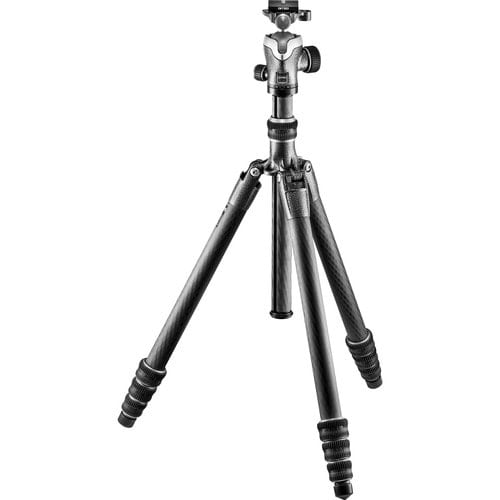 Camera straps
You never know when the perfect shot will present itself. So keep your camera readily available with a handy camera strap. Invest in a few different options so you can coordinate your strap with your look. After all, a professional photographer's best accessory is their camera!
Our pick: Tether Classic Leather Camera Strap
Pros:
Cons:
Some users find the fit to be too snug
Price: $37.95
Rating: 5/5
Color correction card
Color correction cards can help turn those gray shots into great shots. Achieve the perfect white balance every time by whipping out this guide that makes it easy to balance your colors for vibrant photographs.
Our pick: Calibrite ColorChecker Passport Photo 2
Pros:
Sturdy design with a waterproof case
Includes Color Calibration software
Cons:
Occasionally back ordered due to demand
Price: $119
Rating: 5/5
Flash
An external flash is a lighting device you can attach directly to your camera body. A flash is a great tool when shooting in low-light conditions where you can't set up a lighting kit. You will want to utilize your external flash at events like weddings, parties, and conferences.
Our pick: Metz Mecablitz 64 AF-1 Flash
Pros:
Works across multiple camera brands
Includes touch screen panel
Cons:
Some users report overheating with multiple rapid shots
Price: $549
Rating: 4.4/5
Reflectors
If you prefer natural light photography, you will want to buy a reflector or bounce. Reflectors bounce natural light to fill in shadows, creating a balanced image. They are cheaper than external flashes and easy to use when shooting outdoors.
Our pick: Godox RFT-05-5 in 1 Reflectors
Pros:
Includes carrying bag
Available in five colors
Extremely durable
Cons:
Price: $32
Rating: 5/5
Light kit
For in-studio photography, invest in a light kit that includes lights, softboxes, adjustable stands, and connectors. Light kits allow for the largest amount of control over light conditions, so you can have bright and balanced portraits every time.
Our pick: Flashpoint
Pros:
Travel-friendly design
Bi-Color LED Modelling Light ranging from 3000K to 6000K
Cons:
Price: $1,462.85
Rating: 5/5
Studio backdrop
When shooting outside, the world is your backdrop. However, photographers with their own studio spaces need to build scenes for their subjects. Most studio photographers utilize stands with paper or fabric printed backdrops. However, feel free to get creative and construct something completely original.
Our pick: Julius Studio Fabric Backdrop
Pros:
Durable fabric
Perfect size for portraits
Cons:
Fabric may require ironing or steaming
Price: $47.30
Rating: 4.4/5
Props
Whether you're photographing pets, people, or food, it's a good idea to keep some props on hand to spice up your pictures. Of course, the props you need will depend on your photography niche, but consider purchasing some fashion, home, or pet accessories to add to your professional photography studio equipment list. We'll leave our picks off of this one because it's your choice!
Monitor
High-resolution, calibrated monitors are a must-have for previewing and editing your photographs. Whether you are in the middle of a studio shoot or applying color correction in post, you need to be able to analyze your image to make sure it meets your artistic standards.
Our pick: BenQ SW271 27 Inch 4K HDR Professional IPS Monitor
Pros:
4k resolution
99% Adobe RGB coverage
Cons:
Price: $1,099
Rating: 4.6/5
Editing software
Professional photographers know that capturing an image involves way more than clicking the shutter button. Long after the shoot, photo pros are touching up their images with editing software like Adobe Lightroom and Photoshop. While Photoshop is an excellent tool for more in-depth edits and special effects, Lightroom is a quick and relatively easy way to fine-tune images, apply presets, and organize files.
Our pick: Adobe Lightroom
Pros:
Built-in file management
Cross-device editing capability
Cons:
Monthly pricing means you need to subscribe
Price: Starting at $9.99/month
Rating: N/A
External hard drives
External hard drives are fantastic assets for professional photographers to keep in their tool belts (or camera bags). You will take many photos throughout your career, which can eat up a lot of storage. Migrate older files to external drives for safekeeping when you need them.
Our pick: SanDisk Extreme Portable SSD 1TB
Pros:
High-speed transfers
Durable and portable
Cons:
Price: $139
Rating: 4.8/5
Camera Bag
To professional photographers, camera bags are way more than a fashion accessory. How else are you supposed to carry all this gear to your next shoot? Choose a durable camera bag that will protect your equipment while you are on the move.
Our pick: Lowepro ProTactic
Pros:
Modular design
Easy for airline travel
Cons:
Price: $180.48
Rating: 4.7/5
Business Equipment Protection
Whether you are snapping puppy pics in the park or photographing rock climbers off the side of a cliff, there's a chance that your new (and expensive) camera gear could get damaged. Protect your new professional photography equipment from accidental damage or loss no matter where the shoot takes you with Business Equipment Protection insurance. At Thimble, protection for your business equipment starts as low as $6 per month. Now, that's enough to keep anyone smiling for the camera!