Coverage

General Liability

$1,000,000 Limit
| | |
| --- | --- |
| Crew | |
| | |
| --- | --- |
| Pause Policy | |
Get a Quote
Get an hourly, daily, or monthly
insurance policy in 60 seconds
Starting at just $5
What's Covered
Thimble's policies are flexible, so you can build a policy that suits your schedule and your budget.
Policies start at just
$5/hr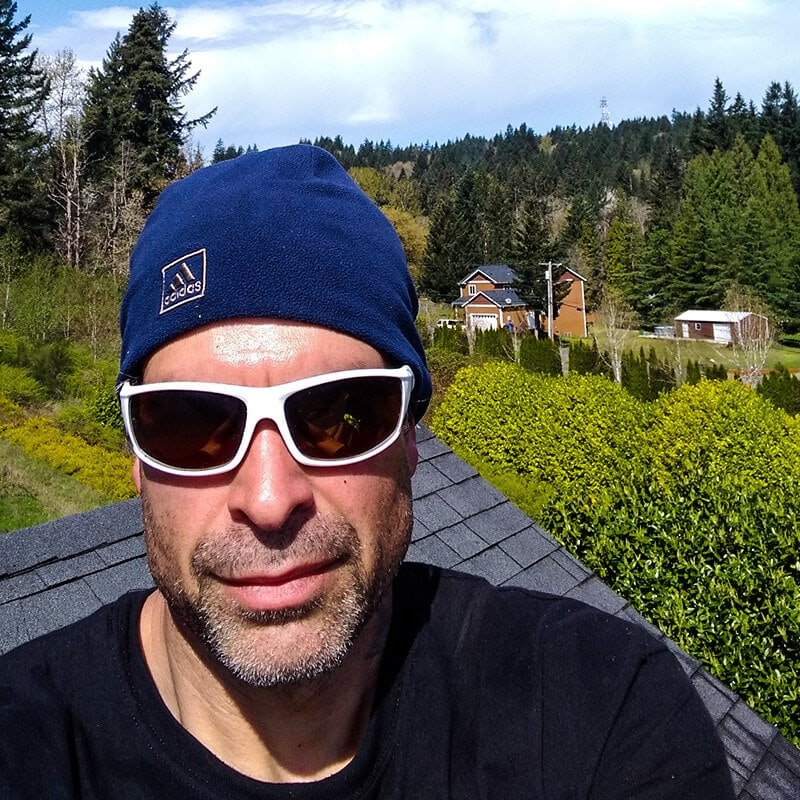 With an annual policy, you have to pay upfront, which can be difficult for a small business like mine. What distinguished Thimble was the hourly rate."
Reis, Thimble-Insured Roof & Gutter Cleaner
Contractor's Insurance - Simplified.
Why do I need a contractor insurance policy?
Whether you are a general contractor, handyman, or electrician, you know that there are risks inherent to your job. You need an insurance policy that's built to protect – and flexible enough to accommodate your schedule.
The General Liability contractor insurance arranged by Thimble is designed to respond to incidents involving bodily injury and property damage. Examples of contractor liability:
Bodily Injury
You are working at a client's property and you leave your toolbelt on the floor while taking your lunch break. During this time, the client walks through your work area and trips over the toolbelt, sustaining an injury.
Property Damage
You are installing new cabinets in a client's home, and while moving materials through the foyer you accidentally knock over and break an expensive antique vase.
---
How much does General Liability insurance cost for contractors?
General Liability insurance policies for contractors and handymen start at $5/hour with $1 million in coverage and $0 deductible.
Add as many Additional Insureds as you'd like for free.
Our affordable liability insurance policies for contractors and handymen are possible because they are based on the length of your coverage, whether for an hour, a day, a month, or longer. This flexibility allows you to purchase coverage exactly when and for how long you need it, making it one of the most affordable options on the market for on-demand contractor and handyman insurance.
---
How quickly will I get a Certificate of Insurance?
Instantly. We've digitized the entire experience so that you'll receive a certificate of insurance in your inbox immediately after purchasing a policy with Thimble.
You can also add and modify your Additional Insureds as many times as you'd like directly from the Thimble App.
---
Who is covered under the contractor insurance policy?
General contractor insurance from Thimble is customized to meet the needs of contractors like you. We cover the following professions and activities:
AV Installation
Alarm Systems Installation & Repair
Carpentry – Interior
Carpet Cleaners
Closet Installation
Contractors
Debris Removal
Deck Building
Fence Building
Finish Carpentry
Finishing Contractors
Flooring
Furniture Assembly (No Cribs or Bunk Beds)
Furniture Installation – Office
Furniture Refinishing
Glaziers
Gutter Cleaning
Interior Painting
Invisible Fence Installation
Locksmiths
Masonry
Millwork
Office Machine Installation and Repair
Painting & Siding
Piano Tuning
Seal Coating
Siding
Small Contractors including Finishing Contractors
Smart Home Installation
Surveillance System Installation & Maintenance
Surveyors
Swimming Pool Servicing (no construction)
Tiling
Upholstering
Wallpapering
Walls
Window Cleaning
Window Decorating
---
Are workplace injuries of my crew covered?
No, injuries to your crew members are not covered under a General Liability policy. This type of coverage only applies to injuries to third parties. To protect your crew against accidental injury, consider taking out a worker's compensation policy.
---
Are my tools and equipment covered?
Thimble does not provide equipment insurance to cover your machinery and equipment, but there are others partner InsureMyEquipment offers this coverage.
---
What do I need to get a contractor insurance quote?
All you need to provide is your industry, zip code, and desired coverage period, and we will provide you with an instant quote tailored to your needs.
---
Does Thimble's contractor insurance cover builder's risk?
Not yet. Builder's risk is a type of property insurance that protects against the loss or damage of material or equipment being used for construction. For example, if a building catches fire or sustains wind damage, this would fall under the category of builder's risk insurance.
Builder's risk insurance is not included in the General Liability insurance for contractors arranged by Thimble.
---
What are the construction insurance policy limits?
You can select a policy limit of $1 million or $2 million, depending on your needs and the level of risk that you would like to be insured against.
---
Are independent contractors covered?
Thimble insurance is made for small businesses that need General Liability insurance on demand. Whether you work with a small crew or by yourself, we can help you get an insurance policy that fits your business needs. If you're not in the handyman and construction space, check out our freelance insurance options.
Handymen + Contractor insurance protects your business from lawsuits, if you or your property accidentally hurts a third party or damages their property.
Bodily Injury

Property Damage

Legal Defense

Medical Payments
Covered Activities
AV Installation
Alarm Systems Installation & Repair
Carpentry
Carpentry - Interior
Carpet Cleaners
Closet Installation
Contractors
Debris Removal
Deck Building
Electrical
Fence Building
Finish Carpentry
Finishing Contractors
Flooring
Furniture Assembly (No Cribs or Bunk Beds)
Furniture Installation - Office
Furniture Refinishing
Glaziers
Gutter Cleaning
Handypersons
Interior Painting
Invisible Fence Installation
Locksmiths
Masonry
Millwork
Office Machine Installation and Repair
Painting & Siding
Piano Tuning
Seal Coating
Siding
Small Contractors including Finishing Contractors
Smart Home Installation
Surveillance System Installation & Maintenance
Surveyors
Swimming Pool Servicing (no construction)
Tiling
Upholstering
Wallpapering
Walls
Window Cleaning
Window Decorating
Optional Add-Ons
Appliance Installation
Chimney Cleaning
Concrete Construction
Exterior Painting
Floor Waxing
HVAC
Plastering
Plumbing (other than a leaky faucet or toilet)
Snow / Ice Removal
Sign Installation
Excluded Activities
Alarm System Monitoring
Assembly of Cribs or Bunk Beds
Fire or Water Mitigation or Restoration
Foundation Work or Repair
Grading or Excavating
Installation Servicing or Repair
Machinery or Equipment Repair (Other Than Office Machines and Household Appliances)
Performing Work over Three Stories in Height (30 feet)
Performing work for the oil and gas industry
Pool Construction
Roadside Assistance
Roofing Work or Repair
Street, Road and Highway Work
Those Specializing in Garage Door Installation, Servicing or Repair
Traffic Control
Welding
Work on 10 or More New Homes or New Residential Units in Any One Project or Development
What's Not Covered by Your Policy
Activities Involving Firearms
Performing Work over Three Stories in Height (30 feet)
Work on 10 or More New Homes or New Residential Units in Any One Project or Development
See full policy for details