The next great solution for First Connect.
Sell at the speed of small business.
Most Innovative Companies 2021
First Connect + Thimble
You need innovative ways to get your clients covered and close sales instantly. That's why First Connect partnered with Thimble to offer the full range of Thimble's capabilities: quote to bind in 60 seconds, instant policy changes, automated communications, and innovative sales tech to give you unprecedented control over your SMB book.
How It Works:
1. Sign up.
Become an affiliated broker with Thimble in 60 seconds, or apply to become an appointed sub-producer.
2. Get your unique ID.
Send quotes to your clients via the dashboard, your widget, or your unique link.
3. Bind and earn!
That's it! Then you get paid for every policy your clients purchase with Thimble.
Instant Policies + Changes
Bind policies in 60 seconds
Bind on behalf of your clients directly in the Broker Portal
Extend, add Additional insured or change coverage limits instantly—no wait
Automated Communications
Get monthly sales summaries in your inbox
Let Thimble notify your clients of policy changes instantly
Innovative Sales Tech
Track sales in your real-time dashboard.
Refer new clients just by sending your unique link.
Embed the Thimble widget into your own site.
What does Thimble Cover
General Liability
Available monoline

Available annual, monthly, or short-term

Up to $2M in coverage

Add unique care, custody, or control coverage

"A" rated paper
Professional Liability
Available when bundled with General Liability

Available annual, monthly, or short-term

Up to $2M in coverage

"A" rated paper
Business Equipment Protection
Available when bundled with General Liability

Available annual or monthly

Up to $5000 in coverage

"A" rated paper
First Connect + Thimble FAQS
How do I get paid my commissions?
As an insurance agent or broker, you will receive a 10% commission of every policy purchase made with your referral link. And, through the end of 2020, you'll also receive a $50 cash bonus for every single sale (you'll be paid when the policy incepts).
On the 10th of the month or once you reach $50 of commission (whichever comes later), you will be paid out for commission earned in the previous month (or months, if you just reached the $50 threshold). The money will be deposited directly into your linked account.
What is the Thimble Broker Program?
Our Broker Portal makes it easy for top brokers to partner with us and bind A-rated business insurance for their clients faster than ever.
Through the portal, brokers can build and bind quotes for clients, keep track of sales, and send their unique link out to grow their book seamlessly. We pay affiliated brokers 10% of the policy value on every policy they sell with Thimble, and appointed sub-producers also earn 17.5% commission on annual policies. 
And Thimble brokers keep their clients for life; you continue to earn on every policy extension or renewal.
Ready to sell at the speed of small business? Sign up now
Please note: You must be a licensed property & casualty broker in order for Thimble to process referral payments and commissions.
Which clients can I sell Thimble coverage to?
Thimble offers an innovative range of insurance essentials built for small businesses and independent workers of all sizes. Coverage can be purchased from an hour to a full year, or by the month with Thimble Monthly, the top choice among Thimble's insureds. Small business owners want the freedom of working for themselves with flexible insurance to match, and Thimble makes it possible for over 140 activities at any stage of their growth. See our full list of included activities here.
Availability varies by state.
Does Thimble require its broker partners to carry their own errors and omissions insurance coverage?
Thimble carries its own E&O insurance to cover its actions, but broker partners are required to carry at least $1M in cyber liability and E&O coverage as a precaution.
How is the coverage arranged by Thimble different from Markel's general liability offering?
In contrast to Markel's annual general liability policies, the general liability insurance arranged by Thimble is available on demand, monthly, or annually, with dynamic coverage options as short as an hour. By joining the Thimble Broker Program, brokers are able to price short-term risks and offer their clients access to a new product, along with binding monthly policies and  traditional annual options. 
Availability varies by state.
Who is the broker of record on Thimble policies?
While Thimble is the broker of record on all policies referred by affiliated brokers, Thimble makes sure that brokers own the client for life by paying the broker referral payments for all future extensions and renewals by the client, along with copying the broker on all transactional communications from Thimble, like cancellations, policy changes, and more.
Appointed sub-producers are listed as the broker of record on policies arranged by Thimble.
Can I see an example Certificate of Insurance and policy?
Yes, you can see examples of policies by state in our Broker Portal at broker.thimble.com.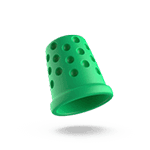 Sell at the
speed

of small business.