4.4/5 stars from 1518 reviews
Thimble makes contractor insurance affordable.
Policies by the job, month, or year*
Add most Additional Insureds at no extra cost
Waiver of Subrogation included with Additional Insured
Send unlimited Certificates of Insurance
Modify, pause, or cancel anytime*
Why do I need a contractor insurance policy?
Whether you are a general contractor, handyman, or electrician, you know that there are risks inherent to your job. You need an insurance policy that's built to protect – and flexible enough to accommodate your schedule.
The General Liability contractor insurance arranged by Thimble is designed to respond to incidents involving bodily injury and property damage
What is covered under a contractor and handyman liability insurance policy?
The Contractor and Handyman Liability Insurance Policy by Thimble protects your business when on-the-job incidents end up causing bodily injury or third party property damage.
Bodily Injury
You are working at a client's property and you leave your toolbelt on the floor while taking your lunch break. During this time, the client walks through your work area and trips over the toolbelt, sustaining an injury.
Third-Party Property Damage
You are installing new cabinets in a client's home, and while moving materials through the foyer you accidentally knock over and break an expensive antique vase.
Medical Expenses
She also sprained her wrist in the fall. With a general liability policy with Thimble, the cost of her medical treatment will be covered.
Defense Costs
After finishing a debris removal project, a client claims that not all of the shingles from a recent home renovation project were removed. She tripped over a small pile of the scraps, and sues you for the cost of your work.
How much does general liability insurance cost for contractors?
The cost of your Contractor Insurance Policy depends on a few factors. Things like your zip code, your coverage limit, the size of your team, and the length of your coverage all play a factor in determining the risk that comes with insuring your contracting or construction business.
With Thimble, you don't have to commit to long, expensive policies, though. You can access flexible Contractor Insurance through the Thimble app and customize your coverage down to the month, day, or hour. Plus, if you need to add Additional Insureds, you can tack them on to your coverage with Thimble at no extra cost.
To get an accurate idea of how much Contractor Insurance would cost you and your business, get a quote from Thimble.
Contractor Insurance FAQs
How quickly will I get a Certificate of Insurance?
Instantly. We've digitized the entire experience so that you'll receive a certificate of insurance in your inbox immediately after purchasing a policy with Thimble.
You can also add and modify your Additional Insureds as many times as you'd like directly from the Thimble App.
What are the construction insurance policy limits?
You can select a policy limit of $1 million or $2 million, depending on your needs and the level of risk that you would like to be insured against.
Are independent contractors covered?
Thimble insurance is made for small businesses that need General Liability insurance on demand. Whether you work with a small crew or by yourself, we can help you get an insurance policy that fits your business needs. If you're not in the handyman and construction space, check out our freelance insurance options.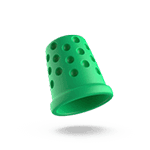 Get covered in minutes. (Then get back to work!)
*A policy under 24 hours in duration cannot be canceled, nor its paid premium returned, once the policy incepts. Only Thimble Monthly policies can be paused, one time and for up to 30 days