4.6/5 stars from 1284 reviews
Thimble makes roofing insurance affordable.
Policies by the job, month, or year*
Add most Additional Insureds at no extra cost
Waiver of Subrogation included with Additional Insured
Send unlimited Certificates of Insurance
Modify, pause, or cancel anytime*
Why do I need Roofing Insurance?
As a roofing contractor, you make a living keeping your customers safe and sheltered. You're working high off the ground, working in difficult weather at times, and fixing arguably one of the most important parts of the home.
But while you're doing so, you have to protect your businesses from any storms that come your way. For example, if you accidentally damage a client's property on the job site, your Roofing Insurance would cover the cost for that claim.
What is covered under a roofing liability insurance policy?
Roofing liability insurance is actually general liability insurance for roofers. General liability insurance, also known as commercial general liability (CGL), protects policyholders from the financial consequences of claims stemming from accidents that cause bodily injuries and property damage to third parties. (Third parties are people who aren't the policyholders, such as your customer or a passerby.) It also provides insureds with the defense and investigation of claims.
Non-employee, third-party bodily injuries:
If you leave a tarp laying on the ground and your client slips on it when walking outside, you can be liable for their injury. If someone gets injured on a job site and files a claim against you, your general liability insurance would cover the damages resulting in medical expenses.
Third-Party Property Damage
If you accidentally damage a third party's property—say you drop a pry bar on an expensive decoration—you could be held liable for the damage. Having insurance means you don't have to pay out of pocket to repair or replace it.
Defense and investigation of claims
If someone brings a claim against you, you will need to have a strong legal defense, even if the claim is without merit. Without insurance, you'd have to find a lawyer and pay out-of-pocket. With Roofing Insurance, the defense and investigation of claims are arranged for you.
How much does general liability insurance cost for roofers?
The cost of your Roofing Insurance coverage depends on a few factors. Things like your zip code, your coverage limit, the size of your team, and the length of your coverage all play a factor in determining the risk that comes with insuring your roofing business.
To get an accurate idea of how much Roofing Insurance would cost you and your business, get a quote from Thimble.
Roofing Insurance FAQs
How quickly will I get a Certificate of Insurance?
Instantly. We've digitized the entire experience so that you'll receive a certificate of insurance in your inbox immediately after purchasing a policy with Thimble.
You can also add and modify your Additional Insureds as many times as you'd like directly from the Thimble App.
Does Roofing Insurance cover damage to my equipment?
General liability insurance won't cover damage to your work equipment, but it will cover third-party property damage and bodily injury of a client or other third party. To cover your own equipment, consider getting these policies:
Business equipment protection: Covers the equipment you own, borrow or rent for your business if it travels with you on and between work sites.
Business owners policy (BOP): Coverage that combines general liability insurance with coverage for real estate and other commercial property that is on your property. It also covers any improvements you make to your workplace if you're renting it.
Real quotes from real customers.
Learn how Thimble helped these small business owners get covered so they could get moving, fast.
It only took me ten minutes to read everything, and it took me less time to actually sign up for insurance.
What I loved about Thimble was that the process was super easy. I was already frustrated because I tried so many other companies and got nowhere. The application process was literally less than a minute and before I knew it I was approved and had insurance. I didn't believe it at first.
It was a very user-friendly website for a busy business owner. It was easy to navigate around, I didn't have to spend five minutes trying to find what I was looking for. It was a couple clicks and I found all the answers I needed.
Purchasing a policy can be very intimidating, but Thimble makes it very easy by being scalable and fitting the needs of your business. So whatever stage your business is at at the time, there's a policy for that.
The Thimble app is so easy to use. It's a no brainer to make sure you have insurance for your small business.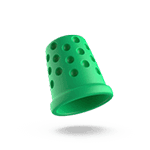 Get covered in minutes. (Then get back to work!)
*A policy under 24 hours in duration cannot be canceled, nor its paid premium returned, once the policy incepts. Only Thimble Monthly policies can be paused, one time and for up to 30 days