4.4/5 stars from 1519 reviews
Thimble makes Pressure Washing Insurance affordable.
Policies by the job, month, or year*
Add most Additional Insureds at no extra cost
Waiver of Subrogation included with Additional Insured
Send unlimited Certificates of Insurance
Modify, pause, or cancel anytime*
Why do I need Pressure Washing Insurance?
Despite its steady nature, a pressure washing career comes with a handful of risks that are associated with most any career. To make sure your pressure washing business stays in business, you need to protect yourself from financial risks. And the best way to do that is by purchasing general liability insurance designed for pressure washers. 
Not to mention, most clients and partners will require you to come to the table with your own pressure washing business insurance—and a Certificate of Insurance to verify your coverage.
Pressure washing insurance can help you access right-now opportunities and protect yourself from future financial risks. And with Thimble, you can make it happen all with a few clicks.
What is covered under a Pressure Washing Insurance policy?
To better understand why pressure washing liability insurance works, you should consider the different kinds of risks a typical policy could respond to. With the purchase of Pressure Washing Liability Insurance, you will be protected against claims of third-party bodily injury and property damage. Here are a few examples of liabilities that Pressure Washing Insurance covers: 
Third-party, non-employee bodily injury
Imagine you're sprucing up the exterior of your client's home. They have a white house, but the springtime pollen has essentially turned it yellow. They enlist you to pressure wash their home and get it back to its pristine resting state. However, while you're performing your job, your client comes out to deliver you a glass of water. On the way, he trips over the pressure washer hose that leads from your truck to you. He breaks his wrist in the fall. 
Third-party property damage
To reach your clients' porch and pressure wash it, you have to walk through their home and, most importantly, their in-house rare gems collection. As you make your way to the porch, your elbow grazes a gem's display case, which was already perched precariously. The display case shifts, and the gem falls to the ground, shattering into thousands of pieces. Your client demands compensation for the gem, and it's no small sum. You're able to file a claim with your pressure washing General Liability Insurance policy for third party damage, so you don't have to bankroll the gem replacement out-of-pocket.
Defense costs
Even if you do everything right, you're still vulnerable to unfounded claims. If a customer files a claim against you—no matter how far-fetched it might be—you still have to pay for defense costs.
For example, imagine that a client said your pressure washing services made their paint chip and, as a result of the chipping paint, their house sold for less than it was worth otherwise. They sue you for the difference they think the chipped paint made in the house's price.
You're sure you did an amazing job on the house, and you've never made paint chip in your entire career, but you'll have to pay for a lawyer to help you prove that. Fortunately, your pressure washing General Liability Insurance covers defense costs, so you don't have to pay out of pocket to lawyer up.
How much does general liability insurance cost for pressure washers?
With Thimble, you can purchase policies by the hour, day, and month, so you'll only pay for the time you're working. Get an instant quote to better understand exactly how much it will cost.
Pressure Washing Insurance FAQs
How quickly will I get a Certificate of Insurance?
Instantly. We've digitized the entire experience so that you'll receive a certificate of insurance in your inbox immediately after purchasing a policy with Thimble.
You can also add and modify your Additional Insureds as many times as you'd like directly from the Thimble App.
Does Pressure Washing Insurance cover damage to my equipment?
General liability insurance won't cover damage to your work equipment, but it will cover third-party property damage and bodily injury of a client or other third party. To cover your own equipment, consider getting these policies:
Business equipment protection: Covers the equipment you own, borrow or rent for your business if it travels with you on and between work sites.
Business owners policy (BOP): Coverage that combines general liability insurance with coverage for real estate and other commercial property that is on your property. It also covers any improvements you make to your workplace if you're renting it.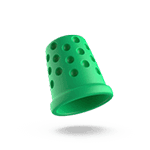 Get covered in minutes. (Then get to work!)
*A policy under 24 hours in duration cannot be canceled, nor its paid premium returned, once the policy incepts. Only Thimble Monthly policies can be paused, one time and for up to 30 days