4.5/5 stars from 1423 reviews
Thimble makes Handyman Insurance affordable.
Policies by the job, month, or year*
Add most Additional Insureds at no extra cost
Waiver of Subrogation included with Additional Insured
Send unlimited Certificates of Insurance
Modify, pause, or cancel anytime*
Why do I need Handyman Insurance?
As a handyman, you know that things can go wrong. Things break, something stops working, and accidents happen. That's why your clients need you. When something goes wrong, they call you.
The costs associated with these accidents can financially devastate your handyman business, let alone your business reputation. That's why you need general liability insurance to protect you, whether you primarily work with private residents, commercial businesses, or both.
General liability insurance for handyman businesses provides coverage for the financial and legal liabilities associated with accidents that result in bodily injury or property damage. With the right handyman insurance coverage, you don't have to personally bear the legal and medical costs. Instead, you can continue operating and growing your handyman business.
What is covered under a Handyman Insurance policy?
The General Liability handyman insurance arranged by Thimble is designed to protect handymen from liability in situations like the following:
Third-party, non-employee bodily injury
You're working an all-day job at a client's home. When you leave for your lunch break, you leave your toolbelt on the floor. The client's toddler is running through the house, trips on your toolbelt, and falls and breaks some of their teeth. Your client expects you to pay for the ER visit and dental repair.
Third-party property damage
You're repairing a ceiling-mounted light fixture in a client's living room. When you move your ladder across the room, you lose your footing and the ladder falls over, hitting and shattering a very expensive chandelier in the process. The client wants reimbursement.
Defense costs
One of your clients is working with several contractors on an extensive home remodel. One of the contractors causes severe property damage, and your client brings a lawsuit against you and all the other contractors in their attempt to seek damages. You need to hire a lawyer to defend against these claims.
How much does general liability insurance cost for handymen?
The cost of your Handyman Insurance Policy depends on a few factors. Things like your zip code, your coverage limit, the size of your team, and the length of your coverage all play a factor in determining the risk that comes with insuring your handyman business.
With Thimble, you don't have to commit to long, expensive policies, though. You can access flexible handyman insurance through the Thimble app and customize your coverage down to the month, day, or hour. Plus, if you need to add Additional Insureds, you can tack them on to your coverage with Thimble at no extra cost.
To get an accurate idea of how much handyman insurance would cost you and your business, get a quote from Thimble.
Handyman Insurance FAQs
How quickly will I get a Certificate of Insurance?
Instantly. We've digitized the entire experience so that you'll receive a certificate of insurance in your inbox immediately after purchasing a policy with Thimble.
You can also add and modify your Additional Insureds as many times as you'd like directly from the Thimble App.
Does Handyman Insurance cover damage to my equipment?
General liability insurance won't cover damage to your work equipment, but it will cover third-party property damage and bodily injury of a client or other third party. To cover your own equipment, consider getting these policies:
Business equipment protection: Covers the equipment you own, borrow or rent for your business if it travels with you on and between work sites.
Business owners policy (BOP): Coverage that combines general liability insurance with coverage for real estate and other commercial property that is on your property. It also covers any improvements you make to your workplace if you're renting it.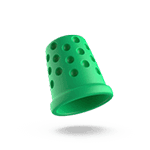 Get covered in minutes. (Then get to work!)