4.4/5 stars from 1518 reviews
Thimble makes Event Planner Insurance affordable.
Policies by the job, month, or year*
Add most Additional Insureds at no extra cost
Waiver of Subrogation included with Additional Insured
Send unlimited Certificates of Insurance
Modify, pause, or cancel anytime*
Why do I need Event Planner Insurance?
Should anything bad happen on a job, you need to ensure that you and your business are protected.
Your waiter spills water and a guest in heels slips and injures herself. One of your runners knocks over the venue's precious sculpture. The list goes on. A Thimble Event Planner Insurance policy mitigates the risk that these incidents result in financial losses for you.
The reality is that we don't have to tell you why Event Planner Insurance is important. You're here because you already know—planning for disasters and problem-solving is what you do best. With general liability insurance and professional liability insurance, your business is more party, less surprise.
What is covered under an Even Planning Insurance policy?
Thimble's Event Planners Insurance includes coverage from scenarios like the following:
Third-party, non-employee bodily injury: 
Your staff is running like crazy to ensure all the guests are catered to. Unexpectedly, the weather takes a turn and a heavy downfall commences. The rain tracked inside causes one of your guests to take a nasty spill as they hurry to the dining hall. They now want to be compensated for the medical expenses from their visit to Urgent Care the following day due to the bodily injury they sustained.
Third-party property damage
While at a venue, you've been tasked with hiring fire dancers to entertain an ostentatious birthday. In a turn of events, one of the performers starts a small fire that burns part of the home. No one was hurt, but your client wants to be reimbursed for the damages. Ouch.
Defense costs
You've been planning this wedding for months, and every piece of it is perfect. A day prior to the set date, the venue floods and you're forced to change locations. It ruins the entire event and your client decides to sue you for the debacle, claiming you deviated from the agreed-upon plans and now your services are unsatisfactory. Now you need to employ your attorney.
Errors & omissions
Your assistant was responsible for ensuring that the event was properly staffed. On the day of the event, you realize that this person has the wrong event date on the callsheet. Only half the staff is able to show up on the fly, and your client sues for negligence.
How much does Event Planner Insurance cost?
The cost of your event planner insurance is based upon a few factors. These include but are not limited to the size of your business, size of your crew (for a specific event), the risk associated with your industry, the location in which you conduct business, and the insurance coverage limits you want to select. Here at Thimble, Event Planner Insurance is incredibly affordable because we've done away with one-size-fits-all policies. Thimble is insurance by the hour, the day, or month, meaning you only have to pay for insurance when work is being performed.
Also, you can add Additional Insureds onto the policy free of charge and generate as many Certificates of Insurance as you'd like. We provide flexible on-demand or monthly insurance that you can obtain in a matter of minutes. Get your free Event Planner Insurance quote now.
Event Insurance FAQs
How quickly will I get a Certificate of Insurance?
Instantly. We've digitized the entire experience so that you'll receive a certificate of insurance in your inbox immediately after purchasing a policy with Thimble.
You can also add and modify your Additional Insureds as many times as you'd like directly from the Thimble App.
Does Event Planner Insurance cover damage to my equipment?
General liability insurance won't cover damage to your work equipment, but it will cover third-party property damage and bodily injury of a client or other third party. To cover your own equipment, consider getting these policies:
Business equipment protection: Covers the equipment you own, borrow or rent for your business if it travels with you on and between work sites.
Business owners policy (BOP): Coverage that combines general liability insurance with coverage for real estate and other commercial property that is on your property. It also covers any improvements you make to your workplace if you're renting it.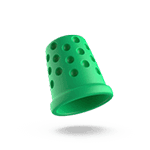 Get covered in minutes. (Then get to work!)
*A policy under 24 hours in duration cannot be canceled, nor its paid premium returned, once the policy incepts. Only Thimble Monthly policies can be paused, one time and for up to 30 days