4.5/5 stars from 1423 reviews
Thimble makes cleaning insurance affordable.
Policies by the job, month, or year*
Add most Additional Insureds at no extra cost
Waiver of Subrogation included with Additional Insured
Send unlimited Certificates of Insurance
Modify, pause, or cancel anytime*
Why do I need a janitorial & cleaning service insurance policy?
Whether you are a cleaner, janitor, or housekeeper, accommodating your clients' needs (and schedules!) is part of the job. You need insurance coverage that's there just when you need it, whether that's five minutes before a last-minute booking or months in advance.
What is covered under a janitor liability insurance policy?
The General Liability insurance arranged by Thimble is designed to respond to incidents involving bodily injury and property damage. General Liability Insurance also covers legal fees and Medical Coverage associated with the claim.
Bodily Injury
You are mopping the kitchen floor in a client's office building. An employee enters the room and slips on the wet floor, sustaining a back injury.
Third-Party Property Damage
While mowing a client's lawn, You are vacuuming a client's dining room when the cord of the vacuum gets wrapped around an expensive dining chair, toppling the chair and snapping the oak frame.
Medical Expenses
A client slips on a wet floor after you mopped the hallway. She injures her back and spends two days in the hospital. Your coverage with Thimble will cover her expenses.
Defense Costs
Two months after cleaning a client's boat, he claims that the cleaning solution you used caused the boat's hull to crack in the winter. He takes you to court over the matter. You're 100% certain that the damage was not due to your work, so you defend yourself in court. Your General Liability Policy will cover the cost of your defense.
Cleaning Insurance FAQs
How much does cleaning service insurance for janitors and cleaners cost?
The cost of your Cleaning Service Insurance policy depends on a few factors. Things like your zip code, your coverage limit, the size of your team, and the length of your coverage all play a factor in determining the risk that comes with insuring your cleaning business.
With Thimble, you don't have to commit to long, expensive policies, though. You can access flexible Cleaning Service Insurance through the Thimble app and customize your coverage down to the month, day, or hour. Plus, if you need to add Additional Insureds, you can tack them on to your coverage with Thimble at no extra cost.
To get an accurate idea of how much Cleaning Service Insurance would cost you and your business, get a quote from Thimble.
How quickly will I get a Certificate of Insurance?
Instantly. We've digitized the entire experience so that you'll receive a certificate of insurance in your inbox immediately after purchasing a policy with Thimble.
You can also add and modify your Additional Insureds as many times as you'd like directly from the Thimble App.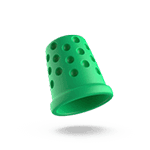 Get covered in minutes(Then get to work!)
*A policy under 24 hours in duration cannot be canceled, nor its paid premium returned, once the policy incepts. Only Thimble Monthly policies can be paused, one time and for up to 30 days