4.5/5 stars from 1425 reviews
Thimble makes BOP insurance affordable.
Pay monthly or yearly
Business interruption coverage included
Add hired and non-owned auto insurance (if eligible)
Add equipment breakdown coverage (if eligible)
Unlimited ACORD 25 Certificate of Insurance
What is BOP insurance?
A Business Owners Policy (BOP) is all the coverage most small businesses need in one easy package with a few main areas:
Commercial Property Insurance
Covers a business's first-party property from situations like a fire, vandalism, or theft. Even assets like your accounts receivable can be protected by commercial property coverage.
General Liability Insurance
Covers third-party property damage, bodily injury, and personal and advertising injury.
Business Interruption Coverage
Covers loss of income due to direct physical loss or property damage at your premises, helping you recover payroll for up to two months and lost income and operating expenses for up to a year.
What is covered by BOP insurance?
Commercial property insurance includes two main things:
Business Building Coverage*:
It's insurance for your four walls and the roof over your head! This Covers damage or destruction to the physical location. It protects the building's structure (the walls around your stuff) from a variety of accidents, such as a fire or a rock thrown through a window.
Business Personal Property:
Property you own and use for business that's located in, on, or within 100 feet of the business premises listed on your policy. That "property" can be anything from large equipment and inventory down to the paper clips.
And general liability insurance covers a few more crucial risks
Bodily Injury:
Slip and falls may happen at your workplace. Should a client injure themselves while visiting you, you could be liable for their medical expenses as well as pain and suffering. 
Property Damage:
You may visit your client's home to perform your services. Should you damage their property during the course of your work, you could be responsible for replacing or repairing the damaged property.
Personal + Advertising Injury:
A part of your job involves advertising your company to grow the business. Should one of your rivals claim that your advertisement damaged their reputation, you could be liable for defamation.
*Heads up: Every business is unique, so certain types of business premises aren't eligible for Business Building coverage from Thimble. It's always best to get a quote to see what your options are.
How do I get BOP insurance?
Get a Business Owners Policy just by answering a few simple questions online, like:
What do you do?
Where do you work?
How big is your team (crew)?
How long do you need coverage for?
Thimble makes BOP insurance affordable, with flexible options that allow you to:
Pay monthly or yearly
Get business interruption coverage (included)
Add hired and non-owned auto insurance (if eligible) 
Add equipment breakdown coverage (if eligible)
Get unlimited ACORD 25 Certificates of Insurance
Request policy changes or cancel online in minutes
Real quotes from real customers.
Learn how Thimble helped these small business owners get covered so they could get moving, fast.
It only took me ten minutes to read everything, and it took me less time to actually sign up for insurance.
What I loved about Thimble was that the process was super easy. I was already frustrated because I tried so many other companies and got nowhere. The application process was literally less than a minute and before I knew it I was approved and had insurance. I didn't believe it at first.
It was a very user-friendly website for a busy business owner. It was easy to navigate around, I didn't have to spend five minutes trying to find what I was looking for. It was a couple clicks and I found all the answers I needed.
Purchasing a policy can be very intimidating, but Thimble makes it very easy by being scalable and fitting the needs of your business. So whatever stage your business is at at the time, there's a policy for that.
The Thimble app is so easy to use. It's a no brainer to make sure you have insurance for your small business.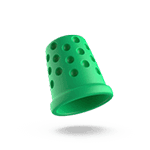 Get covered in minutes. (Then get back to work!)
*A policy under 24 hours in duration cannot be canceled, nor its paid premium returned, once the policy incepts. Only Thimble Monthly policies can be paused, one time and for up to 30 days